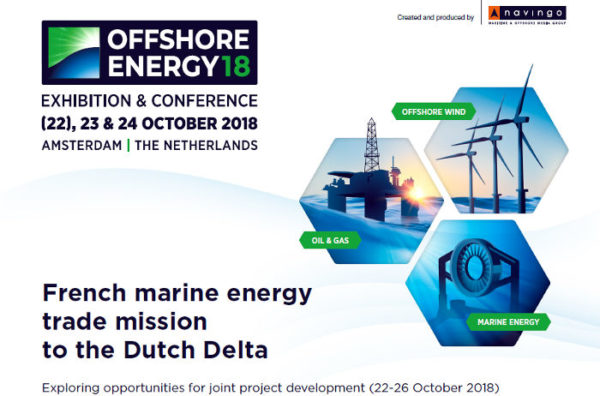 The Netherlands are very active exploring potentials of technology partnerships in the West of France. They are more particularly interested in renewable marine energies, especially tidal and wave energy. A large-scale business operation is to be organised during the Offshore Energy trade show happening in Amsterdam on October 23-25 – An information to all concerned!
The Netherlands Business Support Office (NBSO) is the Netherlands' economic development agency. It has about twenty offices throughout the world, out of which two are in the French cities of Nantes and Lyon. The NBSO's activity relates to multiple industries, albeit focussing on priority sectors in relation to innovation, sustainable economy and the environment. "RMEs are thus for us a major issue, and this is the reason why we're established in the city of Nantes, which has many marine industries," says Annelies Dijkema, NBSO's Business Development Manager in Nantes.
The Dutch momentum
In the Netherlands, ocean energy plays a significant role, with at least four wind farms in operation: Egmond aan Zee (108 MW), Princess Amalia (120 MW), Luchterduinen (129 MW) and Gemini (600 MW). With a total of 957 MW (at the end of 2017, source: EurObserv'ER), the country ranks 4th in Europe (6.3% of Europe's total) and 5th worldwide. "Our marine energy industry, with its cumulated expertise, wishes to extend to the international level and to set up international partnerships, in particular in France and in the Pays de la Loire Region", Annelies Dijkema added. Dutch players are convinced that there is potential for joint business, with approaches that they believe can be complementary."
The business operation to be organised at the Offshore Energy trade show
These partners include the GROW cluster, which gathers the main offshore wind energy businesses and institutions and the DMEC (Dutch Marine Energy Centre): This non-profit network promotes R&D and innovation in all marine energy industries, especially at the head of the Den Oever tidal energy testing facility that belongs, like SEM-REV, to the European FORESEA project.
In relation to various potential marine energy solutions, the DMEC is leading an offensive approach, this year, towards French ERM players. During the major Offshore Energy trade show that will take place in Amsterdam (October 23-24), the DMEC will organise a large-scale mission for French businesses and research centres, first at the trade show itself, and then during field visits of reference sites and achievements.
Innovating solutions in the Dutch Delta
"The DMEC, in a first phase, wishes to gather participants around its stand, and to promote the organisation of as great a number of technology and business meetings among them as possible. The DMEC will then propose participants to go to the field, for two days (October 25 and 26), for high-level visits on marine energies." They will discover the Dutch research centres, during these two days, in particular the great Afsluitdijk dike renovation project, as well as technologies related to tidal and wave energy or to the exploitation of salinity gradient differences.
"France has the world's greatest marine energy potential as well as many industrial players and researchers, who will undoubtedly be interested by on-site visits of our projects," Annelies Dijkema said. "This exploratory mission should allow identifying the bases for the development of our joint projects."
Subscription deadline: 14 September 2018
Contacts: Philip Mulder (pmu@navingo.com), Annelies Dijkema – NBSO Nantes (a.dijkema@nbso-nantes.fr)
For furthers informations about Offshore Energy, consult the programme.