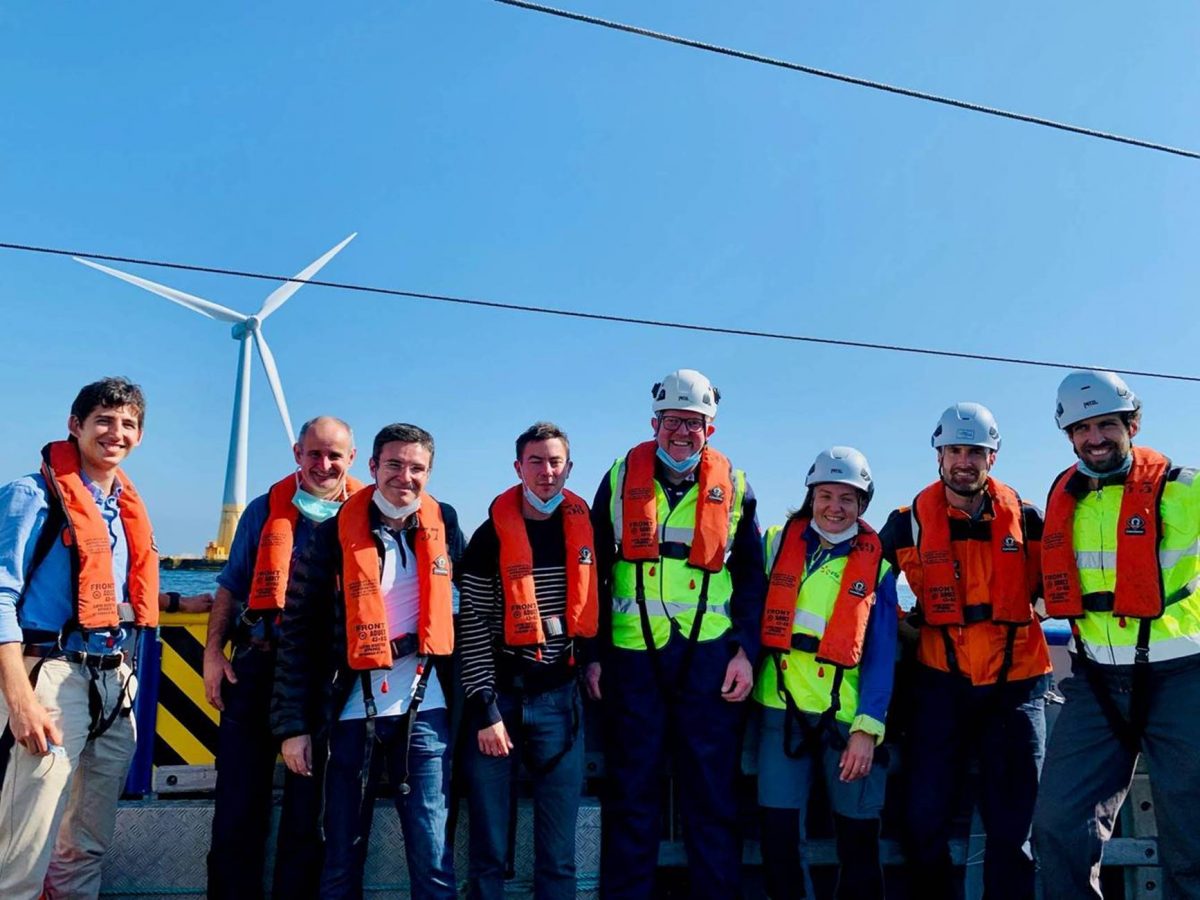 France's first 250 MW floating offshore wind farm will be installed off the coast of south Brittany by around 2030 with approximately 15 to 20 turbines. To bid in this tender, offshore wind leaders and long term partners in France EDF Renouvelables and Maple Power have created the project company Eoliennes Flottantes Bretagne Grand Large. Following on from the projects of Saint-Nazaire, Fécamp, Courseulles-sur-Mer, Provence Grand Large and Dunkirk, this landmark project will be a further step in establishing a fully fledged offshore wind industry in France.
Interview with Michel Benoit, Project Director at EDF Renouvelables
Can you tell us about your consortium and how it stands apart from the other short-listed bidders?
EDF Renewables and Maple Power have a very established track record in France and internationally in developing, building and operating offshore wind projects. Our combined experience and local presence is a unique asset. Before initiating the project development, we had already decided to work on the floater designed by BW Ideol. It was built in Saint-Nazaire and then installed at the SEM REV test facility in 2018, making it well known in Pays de la Loire. With such a technology, we can propose a robust and proven solution, which can be rapidly deployed drawing upon a wide range of skills from across the region.
With the Saint-Nazaire wind farm, we're proud to have accomplished what many have been waiting or hoping to do in France, which is to successfully build the country's first offshore wind farm and in doing so initiate the development of a local and competitive industry. And with the pilot project Provence Grand Large – we are getting ready to build and operate the first floating offshore wind farm in France. The pride we can share with local communities is the result of continuous stakeholder engagement and we're busy now getting ready to continue the adventure with the first French commercial-scale wind farm off south Brittany.
A key strength of our bid is our skilled and experienced people already working on the project, with support of partners who are committed to working with local communities. The team is ready to work alongside local stakeholders for this important project. The industry here in France is highly motivated.
For you, what is the main challenge facing the construction of the first commercial floating wind farm.
There are of course many challenges ahead in the construction of this first commercial-scale wind farm. At this stage, the key objective is to put together an offer that is realistic, competitive and reliable. We strongly believe that this project can only be achieved if we work alongside all stakeholders in the region. Current developments in technology for floating wind mean that we don't yet have the same level of experience as for fixed offshore wind. Port infrastructure will need to be adapted and the sector will have to anticipate needs. France isn't the only country seeking to develop offshore wind, whether it's fixed bottom or floating, and this could mean competitive tensions over the coming years. While market growth is something positive for the sector, the supply chain must be able to keep up. Our consortium's experience and network will be a key advantage in keeping to the project's envisaged timeline.
What are the strengths and weakness of France's offshore wind sector in your opinion?
France's offshore wind industry is still young with the first turbines made in France recently commissioned. But the country has state-of-the-art factories and the sector's growth is a great opportunity as France seeks to reindustrialise. There's a strong drive to organise and grow the sector, with various R&D programmes ongoing. This growth dynamic is a strength that will provide the sector with clear visibility for the future.
The French government is fully committed to develop the sector with an ambitious programme of tenders, which gives the industry and stakeholders the necessary visibility to ensure the sector establishes itself for the long term.
As turbines and foundations are getting bigger and more projects are being planned and developed, a success factor in France's offshore wind sector will be port infrastructure. The country has many ports but infrastructure works are required to meet the needs of this growing sector.
The necessary future investments will prove decisive in firmly establishing the floating offshore wind industry in our regions, especially as France will face stiff competition from abroad.
What is your strategy for ensuring local communities benefit economically from the project?
Our strategy draws on a strong commitment to local development demonstrated over the last 10 years. This has been shown effectively in the wind farms we're building off Saint-Nazaire, Fécamp and Courseulles-sur-Mer. We've also signed for this respect the national charter for French and local industrial content.
These economic development agreements have to be turned into real actions by engaging with our industrial partners and supporting the business community, especially SMEs. We use a proven methodology throughout the project's lifecycle and have already started working with with regional economic players such as Solutions&Co, Neopolia, Bretagne Ocean Power and Bretagne Pôle Naval. This will help us to support SMEs in accessing the market and to ensure they are well known by our main contractors.
The project will not just generate activity; it will be France's first commercial-scale floating wind farm and also one of the world's first. It is therefore a great opportunity for the sector both locally and nationally: skills will be developed, competitiveness increased, and we'll be pioneers in the floating wind market. With this, France's industry is set to serve a high-growth market in Europe and globally.
In addition, we commission many environmental studies, performed on our projects by French SMEs and research institutes. This represents an investment of millions of euros for every project and helps increase our scientific understanding of the marine environment.
Do you have specific expectations of the local industry and institutions? What do you intend to do or have done already with them?
We regularly engage with local industry via dedicated meetings and at industry events such as Seanergy or FOWT and share our expectations and future needs. Building a new industry requires collective effort and collaboration, including of course the top tier suppliers that manufacture the main wind farm components (turbines, floaters, anchoring systems, cables, etc.) who are the principal contractors for SMEs. The key to success for manufacturers lies in their motivation, anticipation and willingness to move forward, sometimes by taking risks, with a view to being competitive and winning markets.
Institutional stakeholders are involved from an early stage during the tender of the project, which is critical in the context of the climate and energy crises to advancing project without delay.
Developers and local stakeholders alike have an active and long term role to play in making this first commercial floating wind farm a success. Our job will be to involve everyone and to foster collaboration throughout the project.