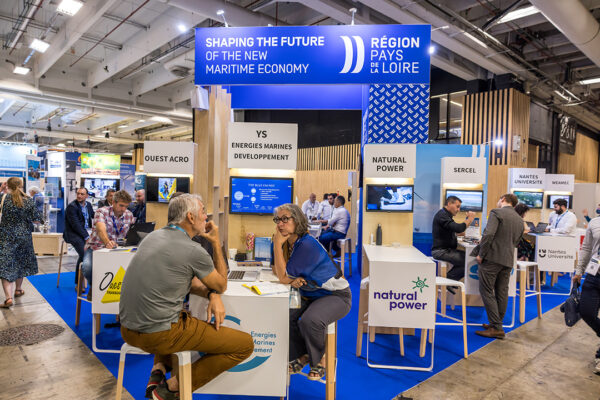 Since 2016, Seanergy, the international event for offshore renewable energy, has established itself as a key event for the marine renewables industry. Organized by Bluesign, Seanergy takes place each year in a different French city, bringing together experts and major industry. In 2024 the event will be held in Nantes from 26 to 28 June.  
Seanergy has established itself as a key annual event for the industry and the green transition, against a backdrop of rapid growth in the global offshore renewable energy market and in line with the objectives of the European Union, the French government and the Pays de la Loire Region.
The event stands out for covering the whole marine renewables industry: onshore and offshore wind, tidal, wave, marine thermal, floating solar energy, salinity gradient energy, as well as related sectors such as energy storage, digital, carbon-free maritime transport, drones, and eco-designed materials.
Each edition of Seanergy brings together over 3,500 participants from all over the world, including policy makers, commissioning institutions, technology experts, NGOs, researchers, investors and subcontractors. With over 200 exhibitors, the event features talks, business meetings, presentations and specialized workshops on the blue growth economy. In addition, Seanergy offers the opportunity to visit the major sites of French offshore renewable energy players, providing first-hand information on current projects.
Seanergy's aim is to create synergies among offshore wind industry players and support marine renewables more broadly. It therefore seeks to accelerate and promote the development of the industry, both in France and world-wide, which will support blue growth and the ecological transition. The last day of the show will be devoted to technical visits, enabling visitors to discover the outstanding industrial and academic sites in France.
Pays de la Loire: a leader in marine renewables
The Pays de la Loire region has established itself as a major player in marine renewable energy in France. With its renowned offshore wind farms, high-growth industrial sector and significant economic benefits, Pays de la Loire plays a pivotal role in France's marine renewables sector. In fact, it was France's top region for marine renewables jobs in 2022 (30% of jobs nationwide).
The region made history in September 2022 with the inauguration of France's first offshore wind farm off Saint-Nazaire, supported by EDF Renouvelables-EIH. The 80-turbine wind farm meets a significant proportion of the region's energy needs. This industry drive continues with the construction of a second wind farm off Vendée that started in 2023. The Emyn consortium is investing around €2.5 billion in this 62-turbine development, which will meet the electricity needs of almost 800,000 additional people.
These emblematic projects have stimulated the growth of a marine renewables industry in the region. Big names such as Chantiers de l'Atlantique, GE Renewable Energy and Rollix-Defontaine have contributed to this growth, attracting numerous national and international companies and strengthening the local marine renewables ecosystem.
The economic benefits are significant, with over 2,000 marine renewables-related jobs in the region, as well as thousands of employment scheme hours during the construction phases. Investments are in hundreds of millions of euros, providing a major boost to the region's economy. The job prospects for the coming years in this sector are colossal. The region hosts Seanergy every other year, thanks to its position as a leading player in the field of marine renewable energies.