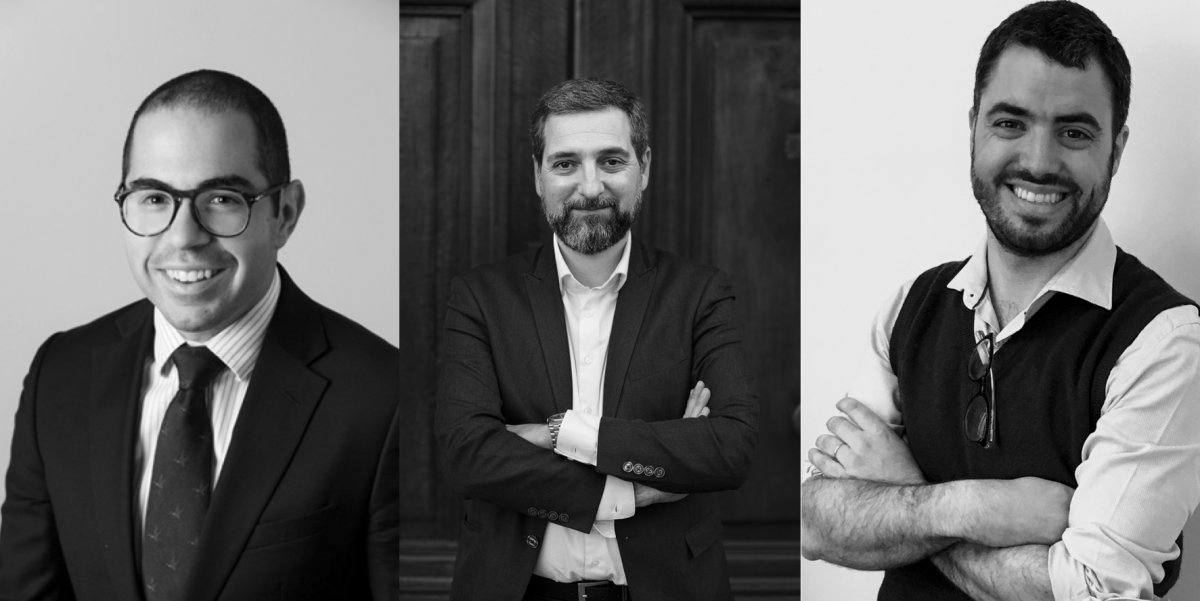 The consortium Amorique Energie Marine – made up of three big names in the energy sector –has been selected to participate in a competitive dialogue as part of the AO5 South Brittany offshore wind farm project.
Three executives from each company share the highlights of their alliance and their vision for the offshore wind sector: Alexandre Franceschini, Vice-President of Corporate Finance and Origination Europe at Corio Generation, Antoine Becker, Head of French floating wind calls at TotalEnergies Renouvelables, and Olivier Guiraud, CEO of Qair Marine.
Can you tell us about your consortium and how it stands apart from the other short-listed bidders?
Alexandre Franceschini: As a consortium, we are highly committed to developing local communities. We bring together the technical expertise and financial capacity of three major groups that have strong backgrounds in the development, financing, construction and operation of renewable energy projects. And each is immensely keen to help grow the floating wind sector.
Corio is a subsidiary of the Green Investment Group and world leader in financing renewable energy projects. It is also a pioneer in offshore wind and has worked on more than twenty offshore wind projects worldwide, representing over 14GW in total capacity in Europe and Asia.
Olivier Guiraud: Groupe Qair is an independent producer of renewable energy well established in French communities. It also works internationally. Projects include the completion of the EolMed pilot array in the south of France and support for the maintenance and operation of the first floating wind farm – Floatgen – off the Atlantic coast at Le Croisic.
Antoine Becker: In addition to its financial might, the consortium enjoys a number of strengths. These include our complementary skills and expertise along with our technical credibility. And we have the ability to develop and deliver this French offshore wind project while managing all the risks involved.
We have another advantage too: we know floating technology inside out thanks to TotalEnergies' expertise in the design, construction, installation plus the operation and maintenance of floating structures in challenging sea conditions. What is more, we're currently working on several offshore wind farm projects including three for floating wind.
Across our teams we possess recognised skills in environmental protection, stakeholder engagement and finance, as well as technical expertise.
The three companies have already shown they can work together: Qair and TotalEnergies on the EolMed project, Corio and TotalEnergie on offshore wind projects in South Korea and the Scotwind call in Scotland and Round 4 in England.
For you, what is the main challenge facing the construction of the first commercial-scale floating wind farm?
Antoine Becker: There are different types of challenge relating to the development of this first commercial-scale floating array: adapting port infrastructure, organising local industry and achieving social acceptance.
The first challenge is to organise the supply chain with a large place for French suppliers. Port infrastructure will have to be expanded and upgraded to handle the ever larger turbines and to allow for the assembly and dockside loading of large floaters and other components. At present, few ports in Europe have the capacity to deal with the integration of large quantities of floaters, which is another key challenge for the construction of this first wind farm.
If the sector is to gain a competitive edge, then the supply chain needs upgrading. This includes making increasingly lighter floaters with less raw material while maintaining stability and performance. It also means ensuring the standardisation which is necessary for industrialisation.
Another success factor is to achieve local stakeholder acceptance and to maximise benefits for communities. In this respect, the project will bring jobs and training opportunities, especially as a technical training framework will quickly be set up covering all levels. This in turn will help shape a local industrial fabric that will be competitive and able to cater for many of the project activities from 2027 on.
The Pays de Loire region clearly has the right ecosystem in place already with the research and innovation WEAMEC hub and reputed professional development courses in renewables and offshore wind jointly delivered by Centrale Nantes and University of Nantes.
What are the strengths and weakness of France's offshore wind sector in your opinion?
Olivier Guiraud: The key strengths include: the country's long coastline, strong growth potential, the ambition set out in the Offshore Wind Pact, the blade and turbine assembly plants already in place, the first calls to tender for commercial-scale floating wind, support for innovation and infrastructure, especially for port development via calls for expressions of interest, and the will of communities and in particular of the Regions.
As for its weaknesses, there are lengthy procedures leading to delays, although recent regulatory reforms have now partially addressed this. Then there has been a lack of planning and anticipation by distribution system operators, which would have accelerated growth and savings through synergies. And these synergies are needed to make the sector sustainable and to provide for specialist training in offshore wind.
France has been slow to build and commission offshore wind farms and this hasn't helped sector growth, especially with regard to tier 2 to 4 suppliers. But change is on its way with the commissioning of the Saint-Nazaire wind farm and subsequent ones. This will mean good practices will be disseminated more quickly and the sector will be able to capitalise on its first practical experiences in the supply chain.
What is your strategy for ensuring local communities benefit economically from the project?
A. F.: Our consortium has signed up to the Cluster Charter, to which the industrial cluster Neopolia is associated, in order to organise the floating wind sector in the region. This commits us to help French small and medium-sized businesses into the market. The way we do this is by informing them of calls for expressions of interest and helping them identify in good time the skills training required. We've already established ties with the academic community, and training and recruitment organisations.
We've also been identifying skills in the region via a questionnaire sent out early this year to businesses in Brittany and Pays de la Loire. The idea is to help them position themselves on different stages or packages of the wind farm project. In this way, we can gain insights into local industry and identify any skills gaps to plug with new training courses and job schemes. For the questionnaire, we were helped by Neopolia and the regional development agency Solutions&Co. The floating wind farm is expected to create at least 100 to 150 full-time equivalents over two years during the construction phase, then 50 to 75 local FTEs during the farm's operation over 25 to 30 years. For the installation and decommissioning phases, the farm is expected to create about 70 local FTEs.
What do you specifically expect of the local manufacturers and institutions? What do you intend to do or have done already with them and in particular with Solutions&Co?
O. G.: As a consortium, we recognise the Pays de la Loire region as a location close to the AO5 site. We also recognise how the region has already moved forward in offshore wind with the fixed-bottom wind farm about to be commissioned off Saint-Nazaire and the fixed-bottom Yeu-Noirmoutier farm about to be built.
The skills and capabilities available in Pays de la Loire are therefore an asset for the South Brittany project and a requisite for its commissioning. In this respect, we've already met with the Region's Vice-President in charge of maritime and coastal affairs and we've started liaising with Solutions&Co and the Grand Port Maritime de Nantes Saint-Nazaire (GPMNSN). When we can go ahead with the AO5 project, we will seek to promote the maritime heritage of Pays de la Loire and the blue economy by ensuring local stakeholders benefit from it. Specifically this means drawing on the combined strengths of the Port of Brest and GPMNSN as a way to support balanced growth and the leveraging of valuable practical experience of the PNSN in the building of an offshore wind farm. On 28 June, we organised a half-day event with Neopolia and Solutions&Co to present the AO5 project to regional businesses and to identify those that may already be able to position themselves in the supply chain.