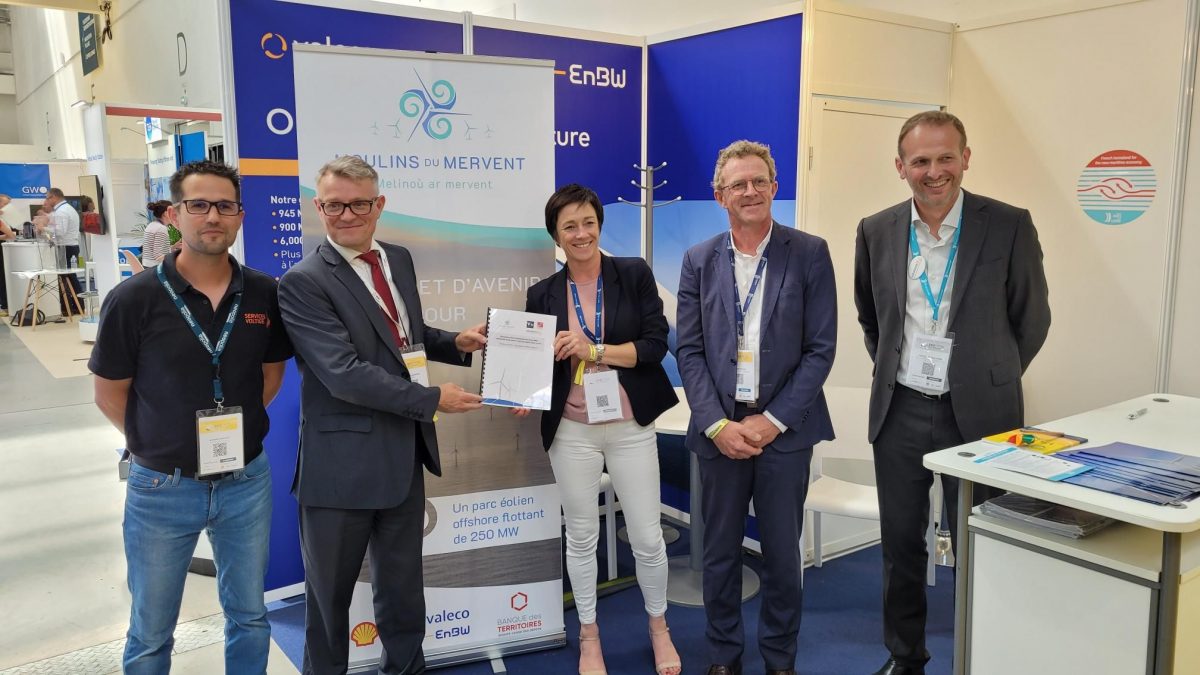 The joint project Moulins du Mervent, launched by a consortium comprising Shell, Valeco and Banque des Territoires, is competing for the floating wind farm in the south of Brittany. Three executives from each company share their thoughts and insights: Pauline Bertrand, head of offshore projects at Valeco, Cédric Marande, manager for floating offshore tenders in France at Shell, and Emmanuel Legrand, head of the department for the energy and ecology transition at Banque des Territoires.
Can you tell us about your consortium and how it stands apart from the other short-listed bidders?
Cédric Marande: Our consortium's strength comes from our expertise and experience in overseeing offshore wind projects, from design to operation. We are experts in floating platform technology and keenly aware of what matters to local communities and of their specificities. The Shell Group has been involved in the maritime industry for 60 years, including 20 in offshore wind generation. Its portfolio of wind projects exceeds 8GW (in production or development), and it has just secured a contract for 5GW of floating wind in Scotland with a local partner.
Pauline Bertrand: Valeco has worked right across all the renewables trades for more than 20 years and it is recognised for engaging with local policy makers and residents. The parent company of Valeco is EnBW, one of Europe's biggest energy suppliers and producers. The group operates a number of wind farms in the Baltic and North Sea (945MW). In Germany it is currently building the first non-subsidised offshore wind farm.
Emmanuel Legrand: Two floating offshore wind farms already have Banque des Territories as a shareholder, in addition to two commercial offshore wind farms now being built off the French coast. The bank brings in its public interest investment experience relating to the construction of large-scale offshore energy infrastructure, which is unique in France. We have the financial capacity to support projects over time and we know the local public stakeholders really well. The energy transition has been deemed a strategic priority by Caisse des Dépôts Group. Since 2008, we have been investing about €300 million annually in renewable energy. The consortium will also be able to draw on Banque des Territoires' close ties with local communities in Brittany where it is based.
For you, what is the main challenge facing the construction of the first commercial-scale floating wind farm.
C. M.: Due of the extreme ocean conditions involved, technology is the key challenge. This will mean making careful choices about floaters, turbines, turbine/float coupling, and other factors. Port infrastructure presents another problem: we need to rethink their layout, create storage areas and access points, put in new machinery, etc. The regional authorities are aware of this and are seeking to adapt infrastructure to cater for our needs. Lastly, we must be backed up by a sound regional supply chain.
P. B.: To minimise impacts on fishing and biodiversity and to ensure different sea uses can co-exist harmoniously, the project will need to be jointly developed with stakeholders. Additionally, it must maximise the economic and social benefits while creating sustainable employment locally in order to meet the region's expectations.
E. L.: Through this investment, we seek to contribute to several national and local objectives: increase the share of renewable energy, diversify the energy mix and help grow the local economy. A key challenge for the project is to help in structuring the marine renewables sector so that it performs effectively.
What are the strengths and weakness of France's offshore wind sector in your opinion?
C. M.: The main strength is that we are not starting from scratch. Major industrial groups such as GE, Les Chantiers de l'Atlantique, Eiffage, SGRE, etc., have already taken initiatives. By the end of 2022, France will have four leading factories for the construction of offshore wind turbines, among the dozen present in Europe. In addition, local authorities, such as regional and city councils as well as the ports of Brest, Lorient and Saint-Nazaire, all understand the need to develop their infrastructure in order to cater for large-scale projects and to support the sector.
E. L.: There is a close network of very small and medium-sized businesses in the region able to participate in this project. We have identified almost 200 in Pays de la Loire and Brittany which are positioned across the various project phases (engineering, manufacturing of the floaters, and operation and maintenance). The regions can also call on very active clusters that help align the industry.
P.B.: France possesses the EU's largest maritime area and has pledged to install 50 wind farms representing 40 GW by 2050, which would make them 2nd largest source of electricity production in the country. The French government has, in this respect, issued two calls for expressions of interest: one, aimed at ports, to develop port infrastructure; and the second, aimed at manufacturers, to provide facilities and to develop construction and assembly projects. In total, around €300 million will be earmarked for floating wind turbines under the France 2030 Plan. We're experiencing a strong and promising drive here. As for the weak points, the first offshore wind farms are taking a long time to complete. This is essentially due to the lengthy appeals process. To address this, the government passed an act in 2020 – known as ASAP – to streamline procedures for industrial projects.
The other weak point is the number of the calls for tenders as part of France's multi-year energy plans. They do not yet provide the long-term visibility that the sector absolutely needs. Nor do they allow for upscaling or ongoing production, which is the cornerstone for cost reduction and new investment. The whole future of the industry is at stake here. What France needs to do is change scale and stop moving forward on a per-project basis. It needs to take a long-term view with larger projects, as our European neighbours are doing. Things are, however, shifting in the right direction with President Macron's speech in Belfort last February, and with the signing of the "Offshore Wind Power Pact".
What is your strategy for ensuring local communities benefit economically from the project?
C. M.: Our consortium works closely with local authorities, institutions, sea users, associations and residents. We are keen to maximise the project's local economic benefits by giving priority, from the development phase, to local businesses.
P. B.: We are committed to local content. From the get-go, we have worked with industrial clusters to pinpoint the skills of local manufacturers and their positioning in the value chain. Going forward, we signed up to various agreements such as the local content charter to help organise a regional industrial sector (in collaboration with the regional clusters Neopolia, Normandie Maritime, Aquitaine Blue Energies, Wind'Occ, Bretagne Ocean Power) at the Seanergy conference in Nantes in September 2021. And we will soon be signing a commitment charter on the specific challenges facing the Pays de la Loire region with Solutions&co*, Weamec and Neopolia, which will focus on three themes: local industrial content, training and innovation. We have begun similar work in the Brittany region.
What do you specifically expect of the local manufacturers and institutions?
E. L.: We want institutions to help us explain to people what floating wind energy is all about, how the technology can really secure our energy independence, that it's our future. It's a real opportunity for France and Pays de la Loire, which is home to some outstanding players. The skills directory undertaken by Solutions&Co* is very useful and it would be important for these skills to be better acknowledged further afield, including in Paris.
C. M.: We need enthusiasm, drive and a long-term vision as we embark on this adventure. To be successful, we hope that France, the regional authorities and local partners will all pull together with manufacturers in this endeavour.
*Solutions&Co is the economic development agency for the Pays de la Loire region