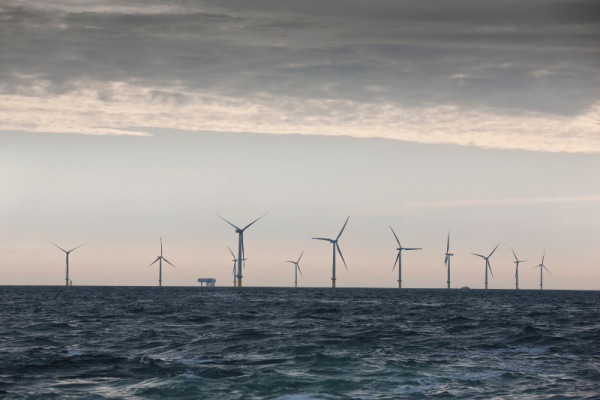 The prefectoral order authorizing the Saint-Nazaire wind farm has just been published. Following a public inquiry, special measures have been been put in place to monitor its environmental impacts. The farm's grid connection is scheduled for 2020.
A flying start for the 80-turbine farm planned off the coast at Saint-Nazaire. The order, which was published by the Loire-Atlantique prefecture in March, marks the official start of the construction project, and establishes the conditions for the installation and operation of the offshore wind farm.
The public inquiry published its favorable opinion last December, though a number of reservations expressed by local bodies were noted. An agreement has since been signed with the regional committee representing the local fishing industry and oyster farmers (le Comité régional des pêches maritimes et des élevages marins). The order creates a number of environmental regulations to prevent and monitor environmental factors. A "system of environmental management" will be put in place, backed by a technical committee and an official responsible for "monitoring environmental issues throughout the construction, operation, and dismantlement phases, and ensuring coordination and follow-up on environmental measures."
A wide-ranging project
The wind farm will be situated 12 km offshore and will cover an area of 78 square kilometers. The project is being run by a consortium led by EDR-En (responsible for overseeing the farm, and which recently announced a new national center for supervision of offshore wind farms in Nantes), the Danish energy company Dong Energy, Lorient group Nass & Wind Offshore, and GE (formerly Alstom).
The Nantes-Saint Nazaire Port is undertaking significant works to put in place a 15-hectare logistic hub dedicated to the pre-assembly of the offshore turbines and the farm's construction. These works represent an investment of around €10 million.
480 MW of total power
The wind turbines will be built in the GE factory that opened in Saint-Nazaire at the end of 2014. The Haliade 150 model under construction has 150 m blades, and is rated to produce 6MW of power. The blades of these giant turbines will reach 184 meters above the sea, and 120 km of cabling will be necessary to hook up the farm to the grid. The farm is anticipated to go into operation at the beginning of 2020. Its output will meet the annual energy requirements of 700 000 people.
Further information: