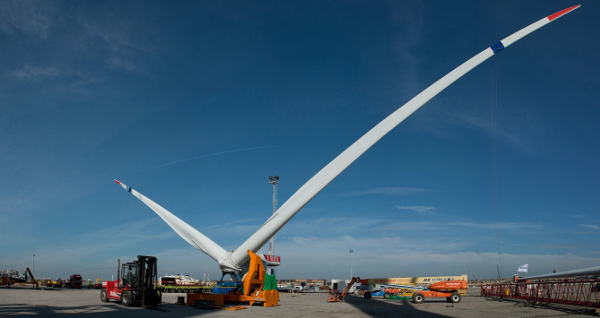 Production facilities for the 6MW Haliade 150 wind turbine are starting to take shape. More than 150 tonnes of equipment left its temporary site to be installed in new factory buildings this summer. Production will now gradually ramp up to full capacity by the beginning of 2015.
Finishing touches to two new offshore wind turbine factories in the port of Saint-Nazaire: Alstom transferred 150 tonnes of equipment this summer, including plant, and turbines already under construction. The rest of the plant will be installed after construction is complete at the end of September.
1000 new jobs
Production at the factories will increase gradually. The planned timetable envisages them to be be fully operational by the beginning of 2015, producing the nacelles and generators of the Haliade 150. Its masts and blades will be made in Cherbourg. The Haliade 150 will thus be entirely "Made in France," with the creation of 1000 direct jobs and 4000 indirect jobs.
At full capacity the Saint-Nazaire works will produce 100 turbines each year. The first models, whose construction began at a temporary site, are destined for American company Deepwater. Alstom is contracted to deliver five turbines to Deepwater's pilot wind farm, due to enter service in 2016. In France, Alstom will fit out wind farms at Saint-Nazaire, Courseulles-sur-Mer and Fécamp with a total of 240 wind turbines between now and 2018.
Further information: www.alstom.com