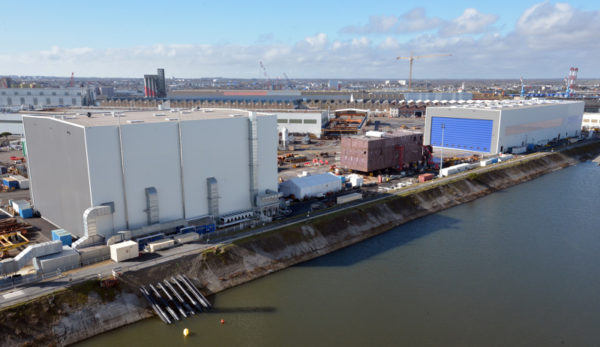 STX France has expanded its Anemos plant in Saint-Nazaire, dedicated to marine renewable energy. The production area is now 12,000 m² and is thus better able to meet the needs of the international market.
The first offshore electrical substation designed and built by STX France, controlled by Dong Energy and designed for the Westermost Rough (England) wind farm, was put into production in the summer of 2014. Currently, two new substations are being built in Saint-Nazaire. These giant elements will be installed on offshore wind farms next year: one 385 MW in Germany (Arkona project) and a 280 MW in Belgium (Rentel).
These are the first substations assembled at the Anemos plant, inaugurated in 2015 to strengthen the MRE capacity of the shipyards in Saint-Nazaire. With this advanced tool, whose construction was supported by the Pays de la Loire, STX France hopes soon to have new orders, for export as well as for the first French offshore wind farms.
To better meet market needs, the assembly shop was extended by 30 metres: it now spans over 120 metres (35 metres wide). This extension will help meet future orders for electrical substations that are increasingly large and brings the size of the production area of ??Anemos to 12,000 m².