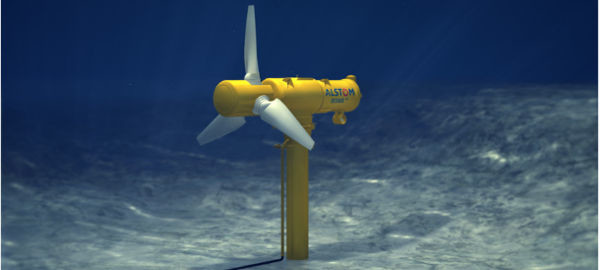 Alstom has revealed the name of its new generation of marine turbines and introduced its newest progeny: the 1.4MW Oceade™18. Powerful, customizable and modular, the turbine is easy to maintain and a likely future winner in a sector which is still on the starting blocks.
Its three variable blades give a total rotor diameter of 18 metres, while its power output has been boosted to 1.4MW. The Oceade 18 tidal turbine, designed by Alstom, is the latest product of the industrial group, which has chosen to base its marine renewable energy R&D centre in Nantes.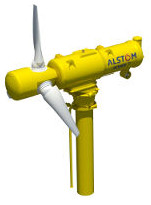 This is the first time that Alstom has revealed the platform's name. The Oceade™ range continues to be refined by Alstom's teams, who are aiming for standout ease of use. Plug-and-play modules on rails will streamline both installation and maintenance. Other strong points include a floating design which is easy to tow to the installation site, and a rotating support which allows it to turn with the current, thus harnessing this energy more efficiently.
With this turbine, together with its proven 1MW sibling, which sea-trialled successfully off the Scottish coast, Alstom is well-prepared for the tidal turbine market. Its ambition: to outfit the planned pilot array for which the French government began tendering last year. "Our objective is to demonstrate a new turbine design that is efficient and reliable, with reduced installation and maintenance costs, with a view to its commercialisation," said Jacques Jamart, Alstom's vice-president responsible for renewable energies.
Further information: Alstom's press release