Geps Techno was one of the 21 start-up companies representing French Tech at COP21. The St. Nazaire-based company has been also acclaimed by the public, receiving most votes in the Cleantech start-up contest for the intelligent energies.
Geps Techno develops innovative solutions for autonomous production of renewable energy in the marine environment. The company was founded in Saint-Nazaire in 2011 and has undergone rapid growth: its turnover increased from €50k in 2014 to €750k in 2015.
The Saint Nazaire company has just been anointed as one of the 21 "ambassador startups" at French Tech at COP21. The winner in the intelligent energies category, in which the public voted for the most promising project, Geps Techno now benefits from having its innovative marine renewables product thrust into the limelight.
The MLiner figurehead
Last July Geps Techno launched the PH4S, a floating "energy Swiss Army Knife" prototype and forerunner of its planned flagship product the MLiner.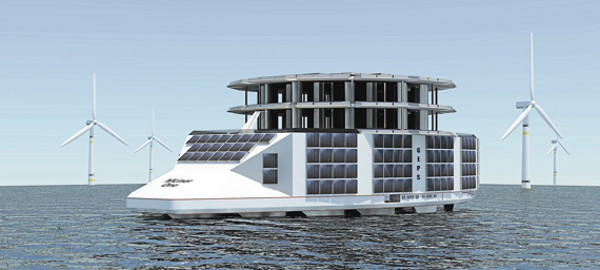 This offshore project is the only platform in the world capable of producing electricity from several renewable sources (solar, wind, wave and tidal current) with potential applications for offshore construction projects or remote islands. It will be launched in 2020.
Further information: