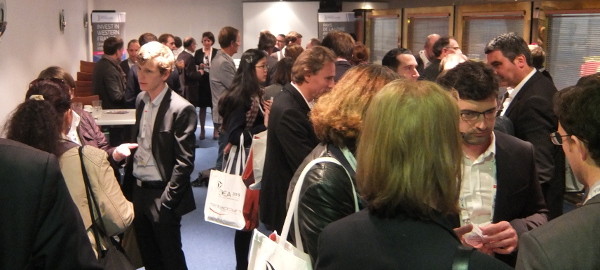 Regional partners* organized a business oriented event at the EWEA Paris event last 17 November. The format, which alternated presentations and networking sessions, was judged a great success by the sector's professionals.
One hour of presentations, then two hours of networking. The parallel session at EWEA Paris entitled "Explore new offshore wind markets in Western France", offered a balanced mix of case presentations and business card exchanges.
This meet-up dedicated to the marine renewables business was a success with almost 90 professionals responding to the call, including all of the major French purchasers. Thirty per cent of the audience was international, with, notably, participants from the UK, Italy, Spain, Germany and Norway.
A shop window for the region's sector
This first ever event was acclaimed by all participants and will be repeated at future business fairs as part of the effort to enhance the attractiveness of the region to international investors. It offered an excellent overview of the skills available in the Pays de la Loire, notably with the creation of a business card album representing all of the region's players, together with those of major purchasers who have already invested here.
*Pays de la Loire Region, Nantes-St. Nazaire Development, Communauté d'Agglomération de la Région Nazairienne, the Port of Nantes Saint-Nazaire, Pays de la Loire Chamber of Commerce and Industry, Vendée Expansion, Neopolia EMR, and the Pays de la Loire Regional Agency