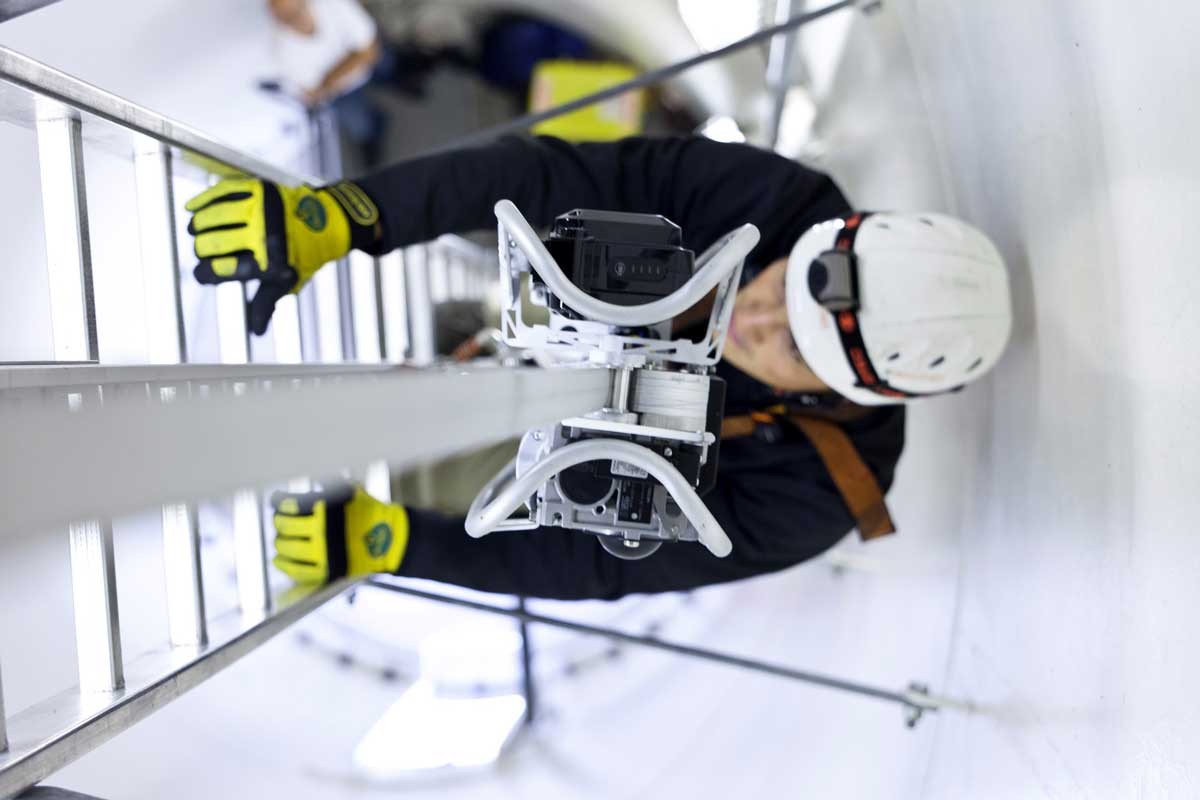 Fixator, an SME based in Saint-Barthélémy d'Anjou (Maine-et-Loire), has designed an innovative new product for wind turbine maintenance. The Exolift bears 80% of the technician's weight as they climb a ladder, reducing the burden of their work. The company was recently awarded theTerritoires Innovation Trophy, and now has its sights set on international markets. An interview with company president Bruno Patron.
What is Fixator's main area of expertise?
"We design and market access systems for working at height—for building workers and lift technicians—and the wind turbine sector, to which France, regrettably, is a latecomer."
You have designed a new tool for the wind turbine sector, the Exolift. How does it work?
"Exolift is a climbing aid for wind turbine maintenance technicians which reached the market at the beginning of this year. The technician attaches the harness to a strap that has been set up on the turbine, it loads, and the system takes 80% of their weight as they climb. The entire device only weighs 11kg. The simplicity of the attachment system means that a single Exolift can be used on several wind turbines, which reduces equipment costs: only two would be needed for ten-turbine wind farm."
How long has it taken to develop this product? And who are your partners?
"It has taken us longer than we anticipated. It needed three years of R&D, two (not just the one we expected) at the École Nationale Supérieure d'Arts et Métiers (an elite engineering school), which was supporting us. The circuit board was developed by SEIA Automatisme. Given the budget overrun and our desire to market the product in the United States, we also sought the help of the Banque Publique d'Investissement (a state-financed investment company), and received a €35,000 subsidy."
You were recently awarded the Territoires Innovation Trophy. What is your reaction?
"We were pleasantly surprised: we hadn't entered for the prize, and proud, of course, to have our work recognised in this way. It boosts the reputation of our product and generates a bit of buzz!"
What are the commercial prospects for Exolift, here in France, and abroad?
"We have modest ambitions for 2015: we aim to sell 50 units. The French market is the priority, followed by Europe, but Fixator is also the first company certified as "Windustry 2.0." Using this network, our opportunities in Canada and the US may bear fruit more rapidly than we expected. We are also going to get the product certified as reducing hazard and effort in a high risk workplace by the Caisse nationale d'assurance maladie (the French state health insurer). This will give us another important selling point, as companies that adopt it should see a reduction in their insurance premiums."