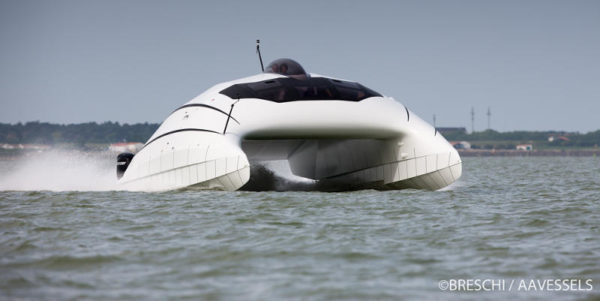 SEM-REV is one of the sea-testing sites selected by the Foresea European project . At the latest Seanergy trade fair, the winners of the second call for proposals were announced and three companies were selected to develop their innovations at the Centrale Nantes testing site: the FMGC and Flex Sense, both based in Pays de la Loire, and Advanced Aerodynamic vessels (A2V) based in Nantes. Testimonies of the project leaders.
FMGC: Submarine cables worth their weight in savings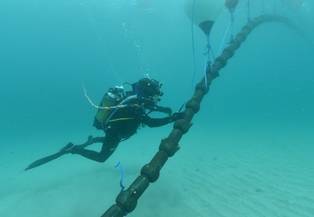 "As part of the Innov PME two years ago, we developed a product to stabilise submarine cables with the help of Innosea and the GeM laboratory in Nantes. The goal was to design a coating that would both protect and ballast cables to replace traditional trenching or rock-dumping techniques . These methods are relatively slow and are extremely costly: A boat for a rock-dumping operation costs more than €100,000 per day and it takes about a week to lay a single cable. Our solution has the added advantage of being more environmentally friendly. To move from the design phase to marketing, we needed to conduct tests at sea and this is what the Foresea system will allow. With these experiments, we can also verify our estimates: we still have to validate them, but we plan to lower the cost of cable protection and ballasting by at least 30%. We have identified three potential markets. First of all, we are working with the French company Sabella to reduce the impact of micro-vibrations due to waves and tides. Our solution is also suitable for wind power installed and floating in difficult environments, such as off the French coast (sea conditions, swell, composition of the sea floor etc.), but also for the connection and supply to the islands. Our first customers are in France, but we are negotiating with British and Northern European players, especially in the tidal energy."
Nicolas Saliot, MRE technical manager at the FMGC
www.fmgc.net

Flex Sense: the low-cost instrument buoy
"Flex Sense is already widely known for our connected oyster however, the first project we developed is actually an instrumented buoy. It is a water quality monitoring solution that weighs 90 kg and costs only €20,000 whereas our competitors offer products that can cost around €1 million. What is most often lacking in operational oceanography is the actual situation on the ground, or the water for that matter. Our buoy is a "low cost" solution that allows to record and communicate data every thirty minutes, up to 30 kilometres from the coast. Suitable for offshore activities such as wind power, tidal power or deep-water farming, in particular to monitor infrastructure, it can be equipped with (in pairs) 270 submersible sensors to measure temperature, salinity, dissolved oxygen, Chlorophyll and more. The buoy has an autonomy of 18 months and recharges in only 10 hours. Data is stored and transmitted to land for viewing, simply via a smart phone, for example. The Foresea system will allow us to test our solution in the winter and in extreme conditions. We will also be able to certify the validity of the data collected on the swell and the current by comparing them with those transmitted by other buoys which cost several hundred thousand euros. Ultimately, our goal is to form a network of connected objects at sea."
Emmanuel Parlier, founding manager of Flex Sense
www.flex-sense.com
A2V: the ship that feels like it has wings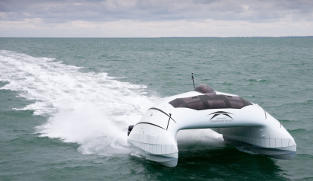 "We are working on a fast transport vessel that reduces the use of fossil fuels. It is a catamaran with a nacelle shaped like an aircraft wing that generates an aerodynamic lift and considerably lightens the ship. This makes it possible both to go quite fast (up to 50 knots, with several tens of passengers on board) while consuming less fuel. The priority market is for so-called crew boats, especially used in offshore industries. The objective of the SEM-REV tests is to better understand the ship's behaviour at sea by comparing our predictive models to the reality on the water and precisely understand its sailing scope. Two vessels are already under construction and will be delivered within a few months. One of them is to be used as a water taxi on Lake Geneva and the other will serve as a crew boat on a river in Gabon."
Matthieu Kerhuel, President of A2V
www.aavessels.com
Foresea: €11 million to boost offshore R&D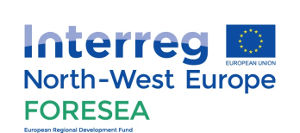 The Foresea project includes four offshore test sites in the Netherlands, Ireland, the United Kingdom and France. It is part of the European Interreg NWE (North West Europe) program and has a budget of €11 million. The first two calls for proposals were used to select 25 initiatives and the third is planned for the summer of 2017.