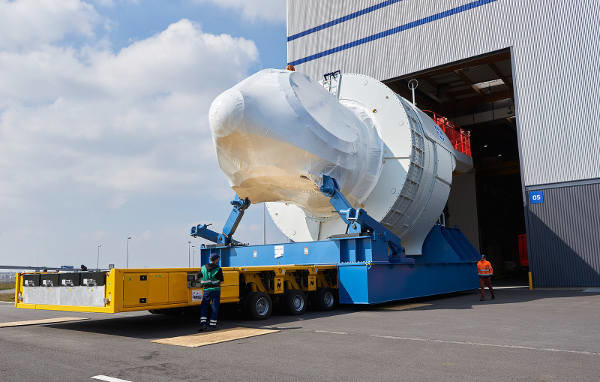 The first nacelle recently rolled off the production line at GE's new factory (formerly Alstom) in Saint-Nazaire. Destined for trials at a Danish offshore wind farm, it's a flying start for the Haliade offshore turbine, which is also set to equip the Block Island pilot wind farm off the US coast before the end of the year.
The pilot farm, situated off the coast of Block Island, will be the United States' first offshore wind farm. Alstom's tender to provide five 6MW Haliade 150 turbines was accepted in 2014. With giant blades that span 150 meters, each turbine can supply enough electricity for 5000 households.
The turbines are built in the Saint-Nazaire marine renewables factory, now owned by GE Renewable Energy following its recent purchase of Alstom's energy division. 170 staff there have been mobilized to fulfill an already bulging order book stocked with orders from both France and abroad.
An operational wind farm by the end of 2016
This first Haliade nacelle is now leaving the Saint-Nazaire factory which was opened in 2014. It will be delivered to the Osterild site in Denmark, where it will be united with its 150-meter high tower, made in Spain, and its turbine blades, made in Denmark, before entering service as a demonstrator model.
Before summer, the next five nacelles will be crossing the Atlantic, and the Block Island wind farm for which they are destined should be connected to the grid by the end of the year. Rated for 30 MW, the 125,000 MWh they will generate over their service life should avert 21 000 tonnes of CO2 emissions.