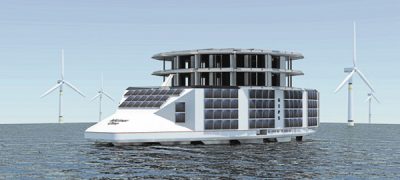 The Saint Nazaire startup Geps Techno has recently adopted new financial sources with a fund raising campaign and Bpifrance grants. The primary objective is to accelerate the commercial development of exports while continuing to innovate.
The MLiner is an independent offshore platform project. The "Swiss Army Knife Energy", it combines several sources of renewable energy (solar, wind, wave and tidal) to supply electricity to the islands, isolated areas and sites at sea. This flagship project by Geps Techno, a young start-up established in Saint-Nazaire in 2011, has already produced one prototype, the PH4S.
For now, the company offers two product lines: independent small power platforms and ship stabilizers. Thanks to early commercial successes in France (Caen University, Mauric consulting, Piriou), the start-up plans to multiply its turnover in 2016 to reach two million.
New course
Geps Techno has just announced the reinforcement of its capital with a €1 million fund raising campaign among its shareholders and STX France, the preferred industrial partner of the start-up since it was established. This is in addition to a €1 million grant allocated by Bpifrance to support R & D work.
A sales manager specialized in innovative products has been recruited and Geps Techno now aims to expand internationally. The start-up is also preparing a new fund raising campaign for €2 million in 2017.