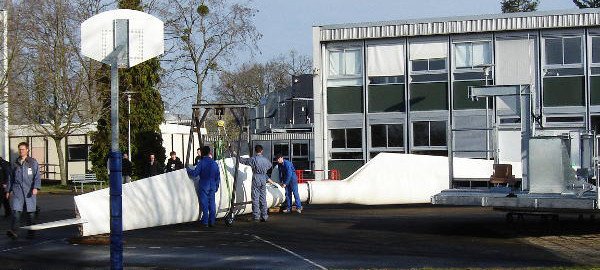 Maine's GRETA (GRoupement d'ETAblissments, a trans-institutional educational body covering Sarthe and Mayenne) offers training modules dedicated to the renewable energies. With proven success, explains Martine Renaut, a continuing education adviser: students completing these modules very quickly find a place in the world of work.
How has the GRETA incorporated the marine renewable energies into its activities?
"We have been training maintenance technicians for land-based wind turbines since 2010. Trainees who complete the six month course are awarded a German qualification, the BZEE.* Since 2012, the GRETA has offered complementary training modules for offshore wind farms."
What professional paths are open to those completing the training?
"Right now there are no French offshore wind farms, so our trainees are destined to begin their careers working on land-based turbines, or go abroad. But our courses are highly sought after: we have received 80 applications for only 20 available places. Applications are coming from candidates in other sectors who wish to retrain. And our results are exceptional. Our last group just finished their training in March. Already 12 of the 20 have found a permanent job, and all are currently employed."
What does the future hold for GRETA?
"We want to offer more to the offshore world, and we are liaising with others in the sector to achieve this. A training course working with composite materials has been devised in partnership with the University of Le Mans. We are also working with the maritime schools to strengthen the complementarities between our courses."
*The GRETA will shortly also obtain GWO international certification.
Further information: www.greta-paysdelaloire.fr