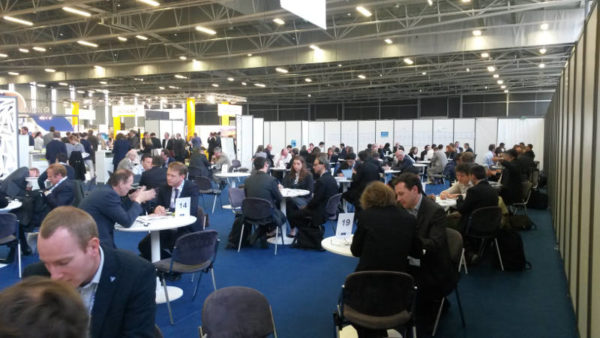 The BtoB Meetings organised by Entreprise Europe Network (EEN) as part of Renewable Marie Energies (RME) industry tradeshows, often play a crucial role in the progress of business issues. Cendrine Carmagnac, advisor for European partnerships at EEN, reflects on the importance of such meetings and on Loire Region companies' involvement.
« Regional companies clearly understood that such compact exchange format, i.e. accurately targeted 30-minute meetings with a partner, client or prospective company, often prove to be a key moment. On international level, companies' strategy is sometimes merely prospective. But at French level, these meetings often allow taking stock of on-going operational issues or initiating new partnerships, presenting new products or services, or identifying new needs.
There's an increasingly strong presence of regional companies in the about 10 events – FOWT, Seanergy, ICOE… – occurring during the year. There's a strong momentum among regional players, who now know how to get well prepared to succeed in these meetings. Preparation, indeed, is the only secret: Working on one's company's presentation and offer, studying potential clients' profile, highlighting company's competitive advantage, innovation impact… A BtoB meeting in a tradeshow is too short to enter into contracts. But it often proves essential to confirm mutual interest, to assess whether the initial contact may be taken further, to lighten up the path of collaborations to pursue… Such meetings, especially for companies that don't avail of a stand, allow making the best out of a tradeshow event, in a targeted and efficient way.
The aftermath of these meetings is also critical. Companies need to devote efforts to their follow-up: sending of requested information, providing details about a particular issue, strengthening the initial contact, extending their thanks of course… This is the moment when business flow is generated. EEN's role is to encourage companies, at that stage, to evaluate the impact of the meeting and to make sure that they get the most out of it, despite the constraint of daily activity, which resumes as soon as the tradeshow is over. »
Cendrine CARMAGNAC : Cendrine.CARMAGNAC@paysdelaloire.cci.fr
Entreprise Europe Network : www.een-ouest.fr