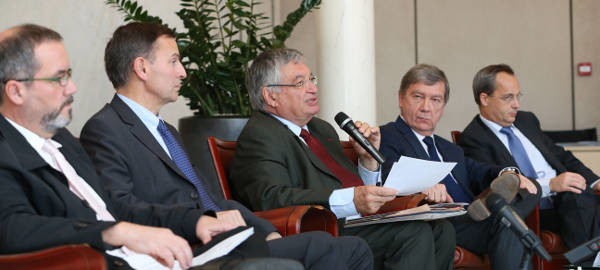 A look back over the successes of 2013, and the new agreement between Alstom and STX France. Joint press conference hears positive news after last Friday's strategic committee meeting representing the Pays de la Loire Region and its big industrial players. The success of the sector seems a sure bet!
The Pays de la Loire Region is harnessing all of its strengths on the sustainable development of the marine renewable energies. A new milestone has been reached in recent months, with, notably, the success of the Neopolia marine renewables business cluster which has already brought orders worth €1.5m to local SMEs from STX France. And the manufacturing sector is maturing with Alstom's orders for STX France.
In the context of the second round of the government's tendering process for offshore wind turbines, the two industrial giants formally unveiled a partnership for exclusive collaboration this Friday. If their bid is successful, STX will produce the transition piece component that connects the foundation and mast of the Alstom Haliade 150 wind turbine.
Alstom has already moved geographically closer to STX France's shipyards with its new factories at Saint-Nazaire. Likewise, EDF Énergies Nouvelles also used the opportunity of the meeting to announce that it has chosen Saint-Nazaire as its logistic hub, despite strong competition from ports elsewhere.
The marine renewable energy network is strengthening, and research and development hasn't been left behind: Alstom has also officially announced that its only engineering centre dedicated to the marine renewable energies in France will be sited at Bouguenais, just south of Nantes. More than 50 engineers are already at work there in temporary offices, but the takeoff of the offshore wind turbine sector will see their numbers expand. By 2015 another 200 will have joined them, just a stone's throw from the Jules Verne Technology Research Institute.