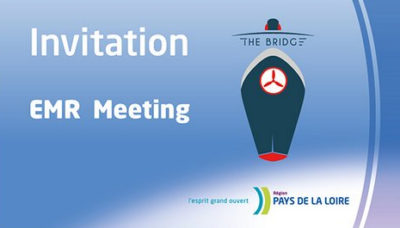 On Friday, June 23, Saint-Nazaire will host the second MRE Meeting. This event is devoted to the potential of the American offshore wind market and will welcome Liz Burdock, director of the US Business Network for Offshore Wind cluster.
The first MRE Meeting was held during the Vendée Globe. This time, the B2B event will be part of The Bridge operation. The main theme is: the United States, El Dorado of the offshore wind power? and it will take place on Friday, June 23, from 9 am to 4:15 pm.
In the morning there will be a conference in English organised by the Pays de la Loire Region and its partners (BouyguesTP, Centrale Nantes and Ideol, members of the consortium Floatgen, Nantes Saint-Nazaire Port and GE Renewable Energy). Following an introduction by Sébastien Pilard, regional councillor in charge of Blue Growth strategy, participants can learn more about the MRE market and the supply chain organisation in the United States thanks to the presentation by Liz Burdock, Director of the US Business Network for Offshore Wind cluster.
At the same time, a roundtable will be held with several local companies and organisations. Innosea and WPD Offshore will present the specifics of the US market as well as the projects and their schedules, while DCNS Energies and GE Renewable Energy (whose Haliade has been chosen to equip a pilot offshore wind farm) will speak of their commercial successes on American soil.
Private visits to exceptional sites
Following the presentations by Business France and Nantes Saint-Nazaire Port, who will present the support initiatives that local SMEs can leverage to conquer the American markets, the morning will conclude with a networking drinks reception. In the afternoon, participants will have the privilege of visiting a highly important site (of their choice, however places are limited): the GE Renewable Energy assembly plant or the yard of the Floatgen, the first floating wind turbine in France.
EMR Meeting #2
Friday, June 23, 2017 from 9 am to 4:15 pm
Centre Portuaire de Montoir – Rue de la Pierre Percée – Montoir-de-Bretagne
Contact: Monique Panhéleux, m.panheleux@agence-paysdelaloire.fr
To attend, complete the questionnaire below before June 16th.