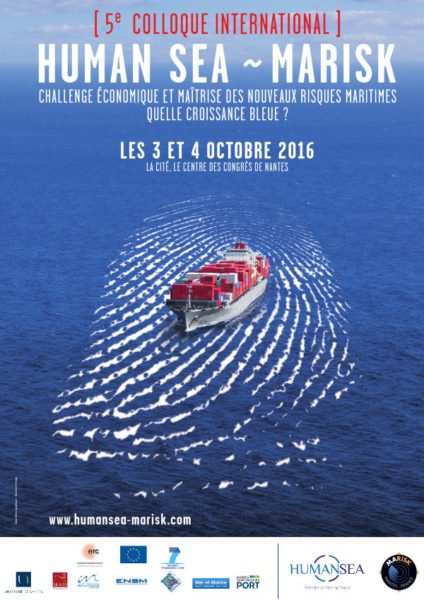 On October 3 and 4, the Pays de la Loire will host a major event for the actors of Marine renewable energies. Created by a partnership between the Human Sea European program and Marisk conferences, this symposium concerning marine risks will gather thirty experts from 11 different countries.
The emergence of marine renewable energy poses new challenges, especially in the field of safety. Offshore locations, large-scale projects, geographic isolation and more; the analysis of these specificities of the sector will be one of the axes of the symposium, Human Sea – Marisk (October 3 and 4, at La Cité, the Nantes Events Center).
This global event is co-organised by the Maritime and Ocean Legal Centre of Nantes University, leading the Human Sea European research program, and the Association of maritime safety conferences (ACSM)*, who has been organising the Marisk conferences since 2005.
Thirty international experts
While it is essentially a scientific event, the symposium is also an opportunity for professional maritime sectors. It is to be organised around the issue: "Economic challenges and mastering the emerging maritime risks: what will blue growth be?".
Over the two days, more than thirty experts from 11 countries and sectors will intervene: Chris Trelawny of the International Maritime Organisation; Kathy Dua of Antwerp port; Marcio de Alencar of the Norwegian company Brasca Ltd; Kathleen Sutcliffe of the Johns Hopkins University in the United States.
* The ACSM groups Nantes – Saint-Nazaire Port, the École nationale supérieure maritime (higher national maritime school), the École nationale supérieure d'arts et métiers (higher national arts and trade), as well as the media Mer & Marine.
Further information: www.humansea-marisk.com