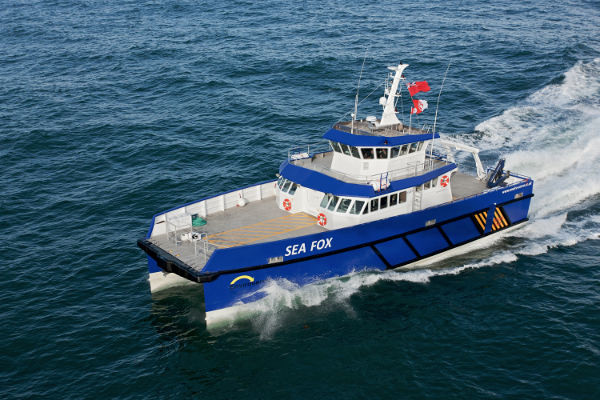 A small business that escaped the financial crisis. With foundering prospects in its historic markets, the Vendeen shipbuilder Navalu diversified into the marine renewable energies back in 2010. A strategy that has borne fruit, doubling its workforce and turnover in less than three years.
In three years the number of Navalu employees has increased from 7 to 16 and its turnover has doubled. Bernard Minguet, the company's director, allows himself a smile. "We are a small business, and it has been very hard to get to this point, but we have made a huge effort," he adds modestly. 
Flash-back. In 2002, Bernard Minguet was the director of a business specializing in windings (sales and service of motors and pumps) spread over three sites. He bought the Garreau company, which had only one employee, a "marine forge" specializing in equipment and boats for oyster and mussel farming. "They hadn't been a customer of ours, though they got through a lot of pumps. I was able to offer them new commercial prospects."
R&D in the DNA
In 2004, stiff competition in the machine market led Bernard Minguet to the decision to specialize in boat construction, working particularly with aluminium, whence the name Navalu, which was adopted in 2008. "Aluminum doesn't rust, it's light, it's strong, and it's easy to repair. But it's long suffered a poor reputation in boatbuilding because of the phenomenon of galvanic corrosion. However we have new techniques that have enabled us to overcome this problem."
In 2006, the company employed an engineer to establish an in-house design office, and the business moved to new premises of 1000m² at Bouin (Vendée). With the move came a change of strategy: Navalu would build boats of up to twenty metres and target international markets such as those in Ireland, New Caledonia, and Spain.
A crisis… and rebirth
In 2009, the catastrophic fall in oyster production hit Navalu hard. New orders ceased. But Bernard Minguet was determined to find new outlets for his company's products. "We had spent a lot of time bidding for tenders, and had launched a diversified range of vessels designed for port usage." 
It was while developing this range that Minguet encountered the marine renewables and realized the potential in offshore wind for local businesses. But he was also concerned that the advanced position of the northern European countries in the sector would give them an insurmountable competitive advantage. To test the market, he went to the 2012 EWEA international business fair in Copenhagen with the Pay de la Loire Region's team, and also researched prospects in England. This proved an excellent move: Navalu landed a contract with Enviroserve to build boats dedicated to the maintenance of offshore wind farms.
The first French boat dedicated to the marine renewables
 
The NxS 24 has been specially designed to respond to the specific needs of the marine renewable energies (see box 1). "Navalu is the first French boatbuilder to have built a vessel designed specifically for offshore wind," Minguet proudly enthuses. A first boat has already been delivered, and a second is under construction.
An option for the construction of a third is still on the table, and other contacts may shortly lead to new orders, particularly in France. "But as long as nothing is signed, nothing is certain," Bernard Minguet qualifies, "and the French market is no longer as significant as expected, though we are able to differentiate ourselves from the big companies that lead the sector by the degree of customization we can offer."
NxS 24: safe and steady offshore maintenance
Navalu's NxS 24 is a double-hulled catamaran designed for maintenance operations in offshore wind farms. Designed in collaboration with the client, it is equipped with two engines, each sufficient to assure propulsion should the other fail. Capable of carrying a dozen crew and up to six tonnes of equipment, it is highly stable.
European reconnaissance
Although a David surrounded by shipbuilding Goliaths, Navalu has always been capable of seeing the bigger picture. On the technical side: "We have developed links with several research institutions, such as the École centrale de Nantes, and we are always innovating! The end of the oyster farming crisis means we can expect a resumption of orders from our traditional customers, but the diversification we have had to undertake has given us some very good additional prospects."
Since 2011, Bernard Minguet has also employed a salesperson dedicated to international markets, and Navalu has participated in many business exhibitions to expand its portfolio of clients. A strategy Minguet expounded during the recent national colloquium on the marine renewable energies at Nantes. "Today, our expertise is recognized across Europe from the Mediterranean to the North Sea," and the SME derives 60% of its turnover from exports. A fine example of success wrought through enterprise and innovation.
Further information: http://navalu.fr
"Supporting businesses that rise to the marine renewables challenge"
Christophe Clergeau, 1st Vice-president of the Pays de la Loire Region responsible for the economy and innovation
At the end of February Christophe Clergeau visited Navalu's recently expanded premises, which had been enlarged in 2012 to enable the simultaneous construction of two boats of up to 35 metres. It was an occasion to affirm the Region's support for businesses participating in the development of the marine renewables sector.
"Offshore wind represents a solid opportunity for the Vendeen economy, creates real jobs, and enables us to capitalize on Vendée's traditional skill in shipbuilding. As with Navalu, the Region is supporting a number of local businesses which are rising to the challenge of the marine renewable energies."