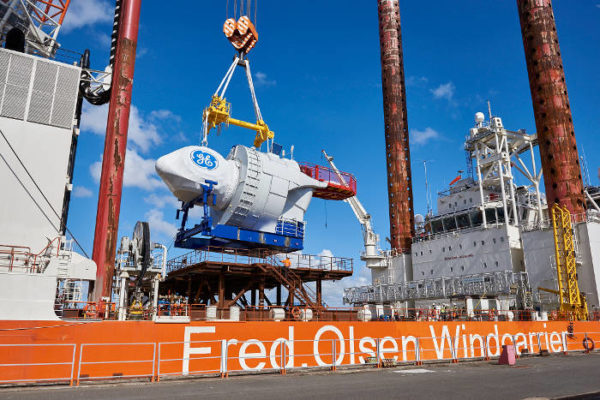 Five Haliade 150 nacelles have just left for the United States. The completion and shipment of this first international order required accurate logistics and marks the launch of mass production at the GE Saint-Nazaire plant.
Shipping a parcel weighing over 400 tonnes and 20 metres wide, is quite a challenge. Impressive logistics were put in place at the Nantes – Saint-Nazaire port to help GE to ship the five Haliade nacelles commissioned for Block Island in the United States.
To transport and store these significantly non-standard items, the Grand Port Maritime provided the Louis Joubert platform and part of the site of the future MRE logistics hub. The move from the GE factory to the shore was managed by the company OCTRA, who entrusted the port handling operations to Atlantique Manutention (subsidiary of SOGEBRAS and the Idea group) to place the platforms on-board on the Brave Tern, a "Jack-up" ship brought in from Norway to take the machines to the United States.
The kick-off of a long series
This first international order has allowed GE to demonstrate how serious it is in meeting deadlines. It also confirms the ability of the Nantes – Saint Nazaire Port to support MRE manufacturers in the challenges of building and shipping offshore wind turbines. In addition to their exceptional size and weight, they are also complex machines: a nacelle is composed of 30,000 different parts and excellent logistics is paramount.
Now GE can concentrate on the next deadlines as production increases. The Saint-Nazaire plant must now build 66 Haliade wind turbines for the Merkur Offshore Park ,one of the largest in Germany. Above all, GE expects an order from EDF EN for the first French parks including 238 wind turbines in all.
Eventually, up to 100 turbines will leave the factory every year. As GE is multiplying efforts to find new business opportunities and primarily in Northern Europe, the US and Asia. Moreover, the company is studying the possibility of adapting the Haliade to a floating platform.