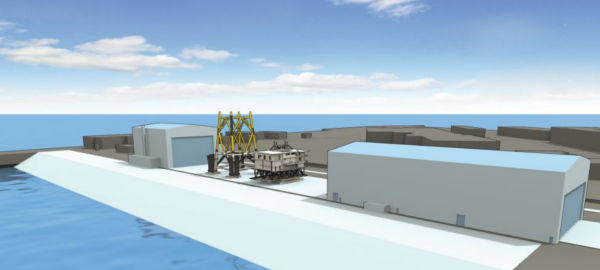 STX is to build a new production unit dedicated to the marine renewable energies, the French shipbuilder announced last Thursday. Based at its Saint-Nazaire site, the factory is the outcome of more than a year of effort by the shipyard to diversify its activities.
A tide of optimism. This October, STX will begin building its manufacturing units dedicated to offshore wind, a project that will consolidate the industrial strengths of the group and open up new markets.
STX France already has a track record in offshore energy following its recent delivery of an electricity sub-station sited off the English coast for the energy company Dong.
The factory's main role will be to produce electrical substations for offshore wind farms. The overall investment: €18m. "We want to be a strong player in the transition to sustainable energy," explained Laurent Castaing, STX France's managing director. "It will also be a "factory of the future."*
STX France a déjà fait ses preuves sur le marché des EMR en livrant récemment une sous-station électrique à l'énergéticien Dong, installée au large de l'Angleterre.
Prévue pour 2015, l'usine produira notamment des sous-stations électriques pour des champs d'éoliennes en mer. Investissement global : 18 millions d'euros. « Nous souhaitons être un acteur fort de la transition énergétique« , a déclaré Laurent Castaing, directeur général des chantiers STX France. Il s'agira par ailleurs d'une « usine du futur »*.
Vital support from the Region
« Nous avons travaillé d'arrache-pied avec STX pour convaincre les banques de financer cette nouvelle usine« , précise Christophe Clergeau, 1er vice-président des Pays de la Loire. La Région a notamment débloqué 500 000 € pour garantir les prêts bancaires, créant ainsi un effet levier auprès des banques, et l'agence régionale a investi 1,5 M€ dans le capital de la société de portage Usimer Immo.
« Qui aurait pu imaginer la construction chez STX d'une usine dédiée aux énergies marines il y a seulement quelques années ? relève Christophe Clergeau. Cette annonce est un vrai motif de satisfaction ! »
En savoir plus : www.stxfrance.com
*« Usine du futur » est l'un des 34 plans du programme « La nouvelle France industrielle » porté par le Gouvernement.