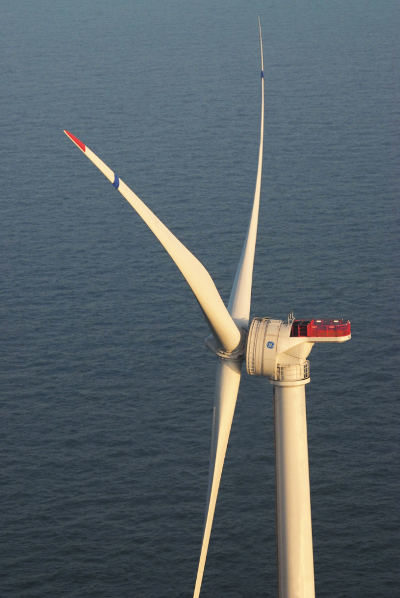 GE Renewable Energy has just wrapped up a deal with China for the supply, installation, commissioning and maintenance of three Haliade 150 offshore wind turbines. A first major achievement on the Asian continent.
Last July, GE shipped its first nacelles for offshore wind turbines to the international market. The Haliade 150-6MW was chosen to equip both the Block Island Wind Farm in the United States, and the Merkur offshore wind farm, one of the largest in Germany.
The GE Renewable Energy plant in Saint-Nazaire will now also be mobilized around an Asian wind farm project, with the Chinese joint venture Fuqing Haixia Electricity Generation having recently ordered three Haliade 150 offshore wind turbines from the company.
Offshore wind turbines: strong development potential in China
These Haliade 150 wind turbines, with a unit capacity of 6 MW, will be installed at the end of 2017 in an offshore wind farm with a total power capacity of 73 MW. This ground-breaking venture, located in the Fujian Xinghua Gulf, will be part of a demo project aimed at validating the best in these state-of-the-art technologies.
China has announced major investments in the renewable energy sector, which should position the country as the world's leading clean energy player.
A strategic contract
The Chinese contract won by GE covers the construction of the wind turbines, the nacelles and generators of which will be built at the Saint-Nazaire plant, and includes a two-year period of on-site commissioning, operation and maintenance.
John Lavelle, CEO of GE's offshore wind power business unit, on the success of this first venture on the Asian continent: "GE will be the only supplier in the world to have installed offshore wind turbines in the Americas, Europe and Asia, and we are looking forward to continue a successful offshore journey in China and Asia."
Further information: www.gerenewableenergy.com