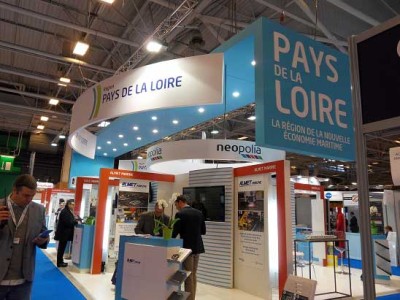 Several Pays de la Loire players will be presenting their expertise at the second edition of the Euromaritime event, most notably on the region's stand which will represent 12 companies and several important partners including local government, business organizations, and the port authorities.
The Euromaritime show has become the essential event for professionals in shipping and the marine renewable energies. The show is organized by the French weekly for the maritime industry Le Marin, the shipping and shipbuilding association GICAN (Groupement des industries de constructions et activités navales) and the French maritime cluster.
For this second edition, the Pay de la Loire Region and its partners1 again plan to share a stand. Singled out for attention by the economy minister Emmanuel Macron, the stand will unite representatives of the Saint-Nazaire local authority La Carene, the port of Nantes-Saint Nazaire, and twelve companies from the region.2 Fifteen other players with a presence in the Pays de la Loire3 will also be taking places around the exhibition hall.
Know how to excel
In the Pays de la Loire, France's leading region of the new maritime economy, the marine renewable energies sector has been developed by exploiting all of the region's strengths and expertise in industry and shipbuilding.
Always the leading French region for shipbuilding, the Pays de la Loire will use the showcase of the Euromaritime event to extol its excellence and present its vision of "the ship of the future." The region has numerous initiatives to display: among them, the hydrogen-powered fishing vessel from the FILHyPyNE consortium, the Cryogenic Containment project using liquefied natural gas (LNG), the Loire Princesse, a new paddleship built by Neopolia for CroisiEurope that will offer Loire cruises from April 2015, Geps Techno's energy self-sufficiency at sea, and Catherine Chabaud's yacht of the future.
1 Neopolia, the Technocampus group, EMC2 competitiveness cluster and the Jules Verne Institute of Research and Technology.
2 ACCO, ALMET Marine, Alumarine Shipyard, Arco Marine, Assistance aéronautique et spatiale, CNI, HydrOcean, MAPAC PANEL, MYG Decking, SEE MERRE, SHIPELEC, Soliso.
3 ACEBI, AMERIS Group, Arcelor Mittal, Bureau Mauric, Cofely Axima, DCNS, Eiffel Industrie Marine, Leroux et Lotz Timolor, Maucour France, Navalu, OCEA, Scania, Sofresid Engineering, Tyco Marine Services, WPD Offshore.