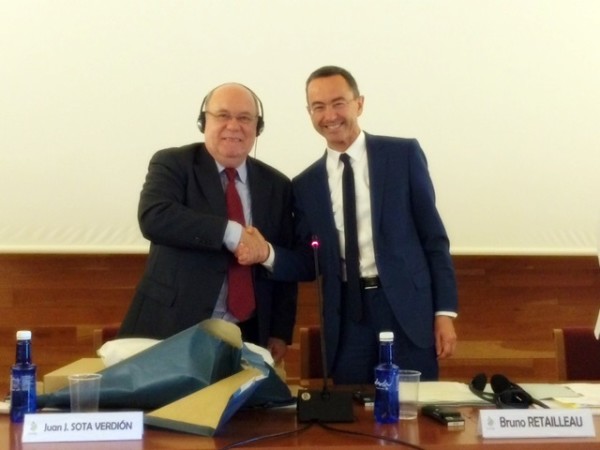 Bruno Retailleau has just been elected President of the Atlantic Arc Commission. The President of the Pays de la Loire region will represent the 18 member regions within the CRPM and in dealings with the European Union. It is also an opportunity to strengthen collaborative efforts with Bretagne, which is steering the MRE working group.
The Atlantic Arc Commission (AAC) was formed in 1989 on the initiative of Olivier Guichard, former President of the Pays de la Loire Regional Council. It is one of the six geographical commissions of the Conference of Peripheral Maritime Regions (CPMR). The AAC includes 18 regions from five countries*, which together represent 12% of Europe's population.
At the last general assembly, Bruno Retailleau took over from Juan José Sota Verdion, President of Cantabria (Spain), at the head of the AAC. "With a firm belief in the essential role that must be played by regional authorities in preparing and implementing EU sectorial policies, the Pays de la Loire region will work to defend the specificity of Atlantic regions, in particular with regard debates on the mid-term review of the multiannual financial framework and on the future of the post-2020 cohesion policy," declared the President of the Pays de la Loire.
A Bretagne – Pays de la Loire link for MRE
The AAC's ambition is to place Atlantic regions at the heart of European action by committing to blue growth. The Commission has, for example, called on the European Union to implement an industrial maritime strategy in order to promote job market and growth potential, in particular in the MRE sector. The AAC would also like the EC's Investment Plan for Europe to contribute to financing major structural projects in Atlantic regions, and for several regions to be able to call on the European Union Solidarity Fund (EUSF), rather than just one member state.
Six working groups have been formed within the AAC, including the Marine Renewable Energy working group, which is presided by the region of Bretagne. Pays de la Loire will therefore be able to further strengthen cooperation between these two major French Atlantic regions, in particular with a three-day international event devoted to floating wind turbines being held in October of this year.
* Alentejo, Centro, Lisboa e vale do tejo, Norte (Portugal); Andalusia, Asturias, Cantabria, Galicia, Navarre, Basque Country (Spain); Aquitaine Limousin Poitou-Charentes, Bretagne, Normandie, Pays de la Loire (France); Argyll and Bute, Wales (United Kingdom); Northern and Western Regional Assembly (Ireland).
Further information: www.arcatlantique.org