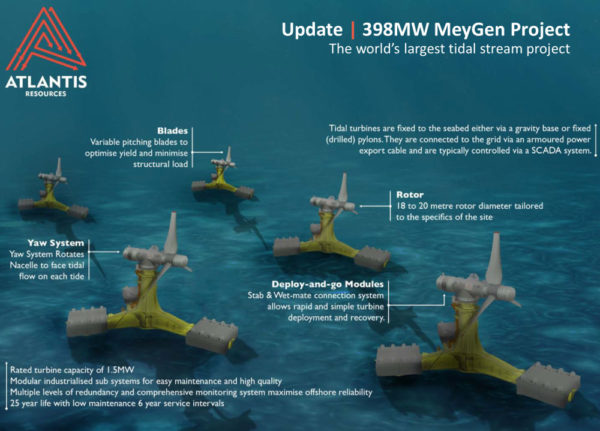 INNOSEA, a Pays de la Loire company, is part of the consortium leading the ambitious Demotide project. Second phase of Meygen project, this aims to develop a marine current park in Scotland that is already profitable. Chosen by Europe following a selection procedure and with support of up to €20 million, INNOSEA has been given a head start in the development of this energy of the future. The company director, Hakim Mouslim, explains.
What is INNOSEA's core business?
"INNOSEA is an engineering and consulting company specialised in marine renewable energy; it is also the only one in Europe focusing 100% of its activity on MRE. We offer three types of services: major projects engineering (project management support), advice (technical, marketing, sector, etc.) and development (research, publishing of specialised software, etc.)."
What is the Meygen project?
"This is a development project for a marine current energy park in Scotland with Atlantis Resources, the world leader. This park consists of four machines in the Pentland Firth Strait which is renowned for its very strong currents, perhaps some of the most powerful in Europe. The installation required an investment of €100 million, but the park has been generating electricity since last November and should be profitable soon. We are now the support for the Demotide project, which aims to install four new 1.5 MW marine current turbines by next year."
How and why is the Demotide project supported by Europe?
"Demotide will receive a grant of more than €20 million, about a third of the overall investment under the Horizon 2020 program. The project is being followed closely by Europe as it concerns the development of a future industry, with promising technology, taking advantage of renewable energy and that will create high-value jobs. The project will also develop expertise that will be valuable worldwide."
Why are these projects strategic for INNOSEA and French MRE sector?
"We have managed to produce electricity at less than €100 per MWh, and the potential market is very large. For INNOSEA, it is very strategic to participate in the first marine current farms in the world and to develop our knowledge of this technology. The only engineering company of the consortium, we have also partnered with Atlantis Resources to develop marine current power in France, and we are currently involved in discussions for several parks."
What role does your presence in Pays de la Loire have in the development of the company?
"We enjoy the support from the Pays de la Loire ecosystem, namely from Ecole Centrale Nantes, WEAMEC, the mer Bretagne Atlantique centre, EMC2 and the Region's various services. The presence in Brussels of Pays de la Loire Region representatives has also been instrumental in the Demotide project, both for technical support for the lobbying dossier with European institutions."
Further information: