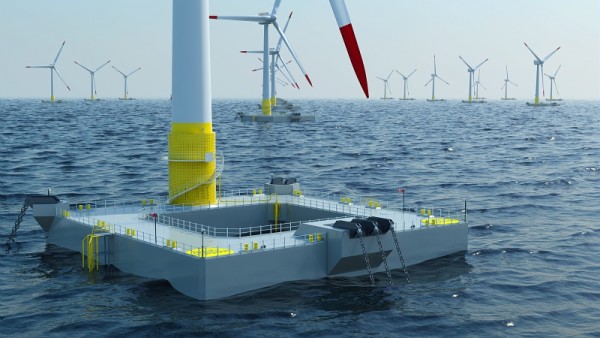 The floating wind turbine offers rich prospects for the harvest of marine energy, and players in Brittany and the Pays de la Loire are now staking their claims in the sector. While the Ademe's green light is still awaited for the pilot wind farm off the Île de Groix, a Floatgen prototype will be installed later this year at the SemRev marine experimentation site.
Last summer the Ademe launched its first tender for government projects dedicated to the floating wind turbine. Its goal was to favor the development of this promising future technology (with a potential 6 GW in France), supporting projects for pilot wind farms in four priority zones.
With the support of both the Brittany and Pays de la Loire Regions, an application was submitted by a consortium grouping Eolfi Offshore France, DCNS, Vinci and General Electric. It concerns a 17km² zone off the Île de Groix, the only priority zone on the Atlantic coast of France.
Eolfi Offshore France is the fruit of an association of the French company Eolfi and CGN Europe Energy, a subsidiary of China's biggest energy company. The ambition of the consortium is to leverage this large scale experiment with an eye to success in future international markets. An opportunity for DCNS, the chief contractor for the sea installation, and for GE which will supply the Haliade offshore turbine, already in use as a fixed turbine.
Prototype coming soon in Loire-Atlantique
The results of the Ademe tender will be announced in September. The Groix pilot farm will be connected to the grid by 2019, and will consist of six 6MW turbines.
Another candidate, Ideol, which forms part of another consortium, is in the front line of developments in the emerging floating turbine sector in Pays de la Loire and France. The Provence startup is currently developing the foundations for the Floatgen demonstration project. These will be sited this year off the coast at Le Croisic, near Saint Nazaire at the SemRev marine experimental site, anchoring France's first floating wind turbine.
* The successful projects will be financed for the installation of the pilot farms (subsidies and reimbursement of sunk costs) as well has benefiting from guaranteed prices for the electricity produced.