March 29 & 30, 2018
Neopolia EMR is a business cluster specialising in offshore wind and marine energies industry. Together, its members develop joint commercial offerings known as "solutions". Come and support Western France's business ecosystem in developing these solutions further.
Are you a company, an industry leader or an academic? Want to do any or all of the following?
Position yourself in the marine renewables market using a great networking opportunity to meet experts from industry and academia working in the sector
Adopt a collaborative approach and see your business grow
Co-develop "competitive" solutions by testing them against constructive expert feedback to ensure they are in line with the needs of the sector
Identify key innovations that will boost your commercial offerings and research projects
Find partners in order to consolidate your projects and/or your business development
If so, come along to 24ID MRE, a unique 24-hour business event on innovation and development in marine renewable energy.
View the event programme here.
Learn about the 5 "solutions" here.
Register now and join the adventure!
Co-organised with
In partnership with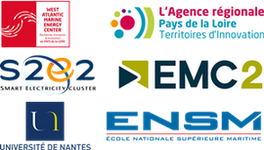 With the support of