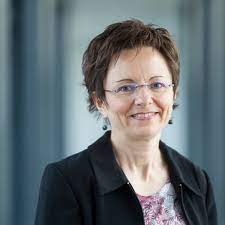 Transmission system operator RTE has been put in charge of connecting France's offshore wind farms to the grid. The grid specialist is a key player in the development of marine renewables in the country. Interview with Carole Pitou-Agudo, RTE's manager for Western France and Hervé Macé, in charge of grid connections for the Saint-Nazaire wind farm.
What progress have you made in connecting the Saint-Nazaire wind farm?
H.M.: "The work involves a lot of cabling and infrastructure. This is because the connection runs from the offshore substation to the national grid which operates at 222,000 volts. Actually it's a double line which travels subsea for 33km before reaching landfall at a beach near Saint-Nazaire. Then it runs for 27km through five towns and villages to the new purpose-built substation at Prinquiau.
The works began in summer 2019 and we've now completed the laying of the subsea cables. The onshore cable route work – trench digging, installation of the underground cable sleeves – has also been completed. And we expect to connect the Prinquiau substation in September. Once done, we'll start testing and the connection should be available by the 2nd quarter of 2022.
All this is highly technical and we've tried to work with local firms as much as possible. The benefits to communities in the Loire-Atlantique area are estimated at €20 million for an overall project cost of €300 million. The onshore section has led to around 20 employment-support contracts offering some 13,500 hours of work in total."
As part of the pluri-annual energy plan*, the government wishes to issue calls to tender every year. That's quite a challenge isn't it?
C.P.-A.: "We're proud to be working on projects of this scale. It's great to be at the heart of the energy transition and preparing the power networks of the future! The government's energy plan, which is in line with its low carbon policy, shows a clear ambition to develop offshore wind farms: it aims for 5 to 10 GW connected to the grid from marine renewables by 2028 and 12 to 15 GW by 2035. And RTE has been commissioned by the government to carry out the grid connections for all the offshore farms."
In practical terms, how are you preparing at RTE?
C.P.-A.: "RTE is an industrial operator in the energy transition and we've planned to invest €33 billion over the next 15 years. Seven to eight billion will go towards connecting marine renewable sources to the national grid while minimising environmental impact and delivering value for money. We will reach out and engage with the local population so that people can understand the ins and outs of these complex projects. Our aim is also to work closely with other stakeholders such as the government, local authorities, farming and fishing communities and local residents.
We've already invested in skills and expertise to build our knowledge of subsea biodiversity and to identify the best cable routes. We've put together new teams to deliver on these ambitious goals. About a hundred employees are now involved and we will continue to hire from diverse backgrounds."
How will you participate in Seanergy?
C.P.-A.: "We'll have a stand to show all RTE's projects. In addition, we're organising a visit to the Saint-Nazaire site on 24 September. This will allow delegates to find out more about RTE's missions and how this type of development can fit into the local community. Seanergy is a great opportunity to show that the energy transition is really unfolding. It's the beginning of a long story!"
*Three wind farms are under construction: Saint-Nazaire, Fécamp and Courseulles-sur-Mer. Offshore wind developments to come: EMYN, Saint-Brieuc and Dunkirk. New calls for tenders are currently being put together for: the Mediterranean, Oléron, Normandy and also in southern Brittany for the first floating wind farm.