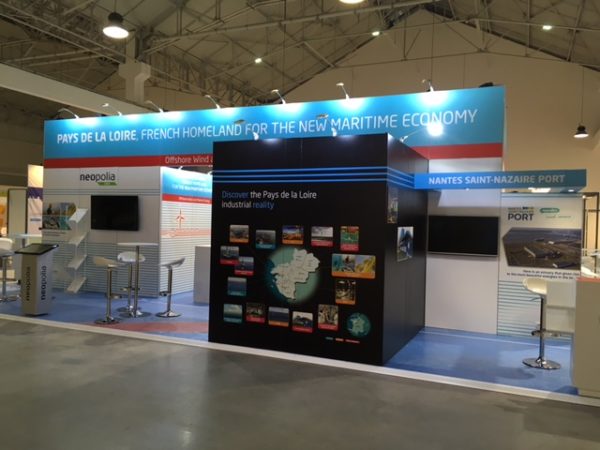 The second edition of Seanergy will take place on March 22 and 23 in Le Havre. This international convention on MREs is the opportunity to present veritable achievements in the Pays de la Loire and to encourage meetings between professionals.
Nearly 100 participants from Pays de la Loire will be at the second edition of Seanergy. In addition to 17 establishments exhibiting at their own stands and thirty companies on-site participating in the BtoB meetings organised by Enterprise Europe Network, 11 major players* have joined the region at the Pays de la Loire stand (E5).
The Pays de la Loire stand pavilion will allow to appreciate the dynamics at work in the territory, where marine renewable energies has become an industrial reality. At the stand, visitors can imagine their projects with the models of three very unique projects in France(the SEM-REV test site, the STX sub-station and the Floatgen floating wind turbine) and immerse themselves in a sort of "black box interactive" video which presents the regional dynamics by zooming in on pioneering projects and innovative infrastructure.
Sharing of experiences and business meetings
The Pays de la Loire is organising several highlights over the 2 days, first at the Brittany stand (D7) with the progress of the cooperation between the two regions, announced at the first edition of Seanergy, which aims to boost the development the MRE field (12:30 pm on March 22). It is the opportunity to recall the main actions taken and to announce the FWP Atlantic Forum in 2017. The Pays de la Loire will also be working at the Brittany stand to present the Ocean Eranet Cofund project (at 9:00 am on March 23) and be at the Netherlands stand (F9) for an international business cocktail (4:30 pm on March 22).
The Pays de la Loire stand will also host a networking cafe called Pôle Mer Bretagne Atlantique (Atlantic Sea Brittany Centre at 2:30 pm on March 22) and a presentation of the Foresea project followed by a cocktail reception (at 12:00 pm on March 23).
* Allia, Centrale Nantes, Flowserve, Geps Techno, Neopolia EMR, Nantes Saint Nazaire Développement, Natural Power, Port de Nantes-Saint Nazaire, Sogebras/Eolhyd, Université de Nantes, WEAMEC.