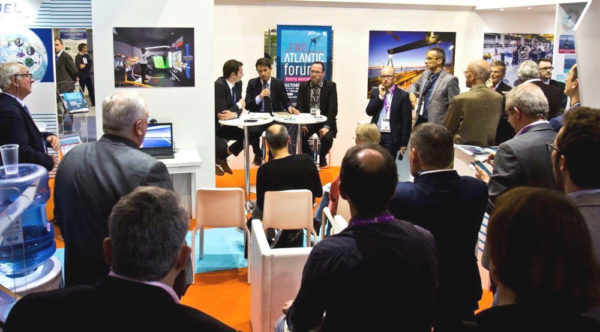 The next international Seanergy conference will take place in Le Havre on 22 and 23 March. With around twenty structures from the region taking part, the Pays de la Loire will be particularly well represented at this essential event for MRE professionals.
In 2016, Seanergy brought together 3,000 visitors from fifteen different countries and instantly became the reference event for the MRE sector. The convention includes conferences, an exhibition space, B2B meetings and technical visits. Alongside the main programme, it also hosts the National Conference of the Renewable Energy Trade Union (SER).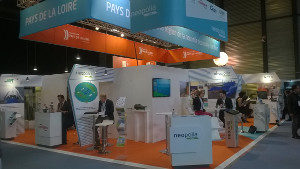 For the second edition, that will take place in Le Havre on 22 and 23 March, a collective regional stand will bring together ten regional structures: five institutional or academic actors (Neopolia EMR, Nantes – Saint-Nazaire développement and Nantes – Saint-Nazaire Port, WeAMEC, the University of Nantes and Centrale Nantes) as well as five companies (Geps Techno, Flowserve, CMI-Allia, Natural Power and Sogebras). Eleven other companies located in the Pays de la Loire will be present at the event with their own stands.
The Pays de la Loire, the region of the new maritime economy
In the Pays de la Loire, the development of MREs is a priority. A pioneer in this emerging sector, the region combines a number of strengths: involvement of local authorities – with significant investments from the Region –, cutting-edge infrastructure, high quality industrial fabric, presence of recognised actors in training and R&D…
Seanergy represents an international showcase to promote the skills and know-how of the regional actors, and to present the remarkable initiatives carried out in the Pays de la Loire. On the regional stand, an interactive "black box" system will enable visitors to watch videos of industrialists and structuring projects from a regional map.
Are you a company in the MRE sector? You can register as a visitor or take part in B2B meetings. If you wish to promote your business by exhibiting in the event's R&D area, posters must be entered before 20 February.
Further information: http://seanergy-convention.com