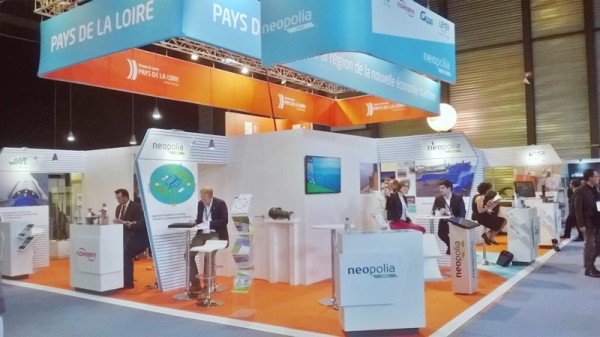 During the first day of the international Seanergy forum, innovation in the MRE sector took pride of place at the Pays de la Loire booth. In addition to scale models and a virtual reality experience, a new event devoted to a technology of the future – floating wind power – was announced.
From the 12th to the 14th of October, in Brest and Nantes – Saint-Nazaire will host the first FWP Atlantic Forum. This international event, which is held once a year in various locations, will be devoted entirely to FWP (floating wind power). It will be jointly organised by the regions of Bretagne and Pays de la Loire, who announced it today at the Seanergy forum.
This new cooperative endeavour will highlight the complementarity of the two regions and their assets in the MRE sector. The FWP Atlantic Forum will be split into two phases: "two days of conferences, technical workshops and B-2-B meetings at the Quartz de Brest, followed by a day of industrial site visits in the Pays de la Loire," explains Sébastien Pilard, Vice-Chairman of the Pays de la Loire for blue growth. 300 visitors and more than thirty international speakers are expected.
Immersion in the MRE industry
Visitors to the Pays de la Loire booth at the Seanergy forum enjoyed the opportunity to find out about the expertise of regional players, in particular with the virtual reality experience explaining how GE's Haliade wind turbine works, which was made possible by Technocampus Smart Factory. The Neopolia EMR cluster presented the services and solutions provided by its members with an interactive digital demonstrator.
Several joint-exhibitors highlighted a number of innovative R&D projects and infrastructures. Such as Meca: a hollow tidal stream generator blade made of composite materials, which was produced by the Hobit project carried out in conjunction with partners from IRT Jules Verne*.
The booth also presented a scale model of SemRev, which was designed by École Centrale de Nantes, as well as a scale model of the IHES autonomous floating platform. This project led by Geps Techno is aiming to develop a stabilised industrial marine energy platform, measuring 18 metres in diameter, with a hybrid system enabling both energy production (100 kW) and storage. Fundraising is nearing completion and the prototype IHES is set to be tested in 2017 at the SemRev marine test site. At the same time, the test site will also be welcoming the Floatgen floating wind turbine demonstrator.
* Europe Technologies, Hydrocéan, Loiretech, Multiplast, Omega, Pinette, SDI and Socomore.
Pays de la Loire sector players represented on the Region's stand include: AAA Energy, l'Agence Régionale Pays de la Loire (Invest in), Saint-Nazaire's Carene, the École centrale de Nantes, Flowserve Pompes, Geps Techno, Jules Verne IRT, Lemer Fonderie, Meca, Nantes – Saint-Nazaire Developpement, Nantes – Saint-Nazaire Port, Neopolia EMR, the competitivity clusters EMC2 et S2E2, SDEL CC, the University of Nantes and WeAMEC.
Regional players with their own stand include: the Afpa, Atlantique Maritime Services (LHD Group), Bessé, Cadden, DCNS, FMGC, GE, Hydrocean, Innosea, Mojo Maritime, the Pôle Mer Bretagne Atlantique, RTE Ouest, STX France, Valorem and WPD offshore.sea