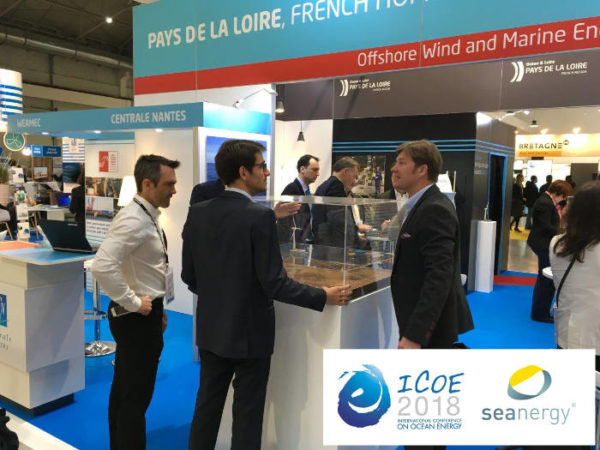 The Pays de la Loire Region's objective in the Seanergy/ICOE 2018 fair certainly is to attract the public's attention and to provide opportunities for new contacts. By participating in the 2018 biggest international event on Renewable Marine Energies (in Cherbourg, June 12-14), the Region is indeed reasserting its ambition to take leadership in this industry, nurtured by a development and promotion strategy at the service of the Region's businesses.
After only two editions, Seanergy has already become a must-attend event. In 2017, 233 exhibitors and 3,500 visitors had shown up in this two-day fair dedicated to RMEs. This year, from June 12th to 14th, in Cherbourg, it will be co-organised with ICOE, the International Conference on Marines Energies. This means an even stronger potential impact within the industry, notably in terms of international reach, with an objective of 40% of international participants.
Complementarity of scientific and business contents
Since 2006, the ICOE Conference has gathered between 600 and 900 experts, every two years, and nearly hundred exhibitors. In 2016, in Edinburgh, 25 countries were represented in this event, which was supported by the International Energy Agency (IEA), through its technology collaboration programme (Ocean Energy Systems, OES). As for the Seanergy fair, its main focus is on business. Over 800 business meetings will be held over the two-day event, with high-level conferences on the industry's new developments and innovations. Seanergy and ICOE thus appear as complementary, combining scientific contents and business opportunities. Conference's topics will deal with research and new applications, as well as economy and society related aspects of RMEs, and the necessity to encourage the youth to engage in this industry.
In Pays de la Loire, a growing momentum
The Pays de la Loire's fair stand — a 100-m2 space that the Regional Agency has reserved and arranged on the Region's behalf — will be at the heart of such momentum. It will welcome about 15 industrial players from training and research sectors and from various institutions to whom the opportunity will be given to showcase their achievements and projects and to establish contacts.
The Region's participation in the Seanergy/ICOE 2018 event is in line with its tireless dedication to promotion and support of the RME regional industry. For several years, in conjunction with the Regional Agency, the Region has been pursuing a real economic development strategy (through co-development groups, support of innovative approaches, cross-region cooperation, research of investors…), which is bearing fruits.
The Pays de la Loire Region, thanks to its strong presence in all sectors of the industry – in terms of geographic establishment, of the number of industrialists and R&D and training players, and of qualified labour —, has been playing an increasingly important role in the field of RMEs, with a significant international reach. In 2017, the Region ranked first among French territories for RMEs, with 42% of French employers*. In addition to Saint-Nazaire and Yeu/Noirmoutier islands wind farms at sea in the process of being established, the activity of businesses (GE, STX…) and research, with the SEM-REV testing site for example, is steadily gaining ground.
*Source: French Observatory for Energies and Seas, 2017 report
For detailed information on Seanergy/ICOE 2018: http://icoe2018normandy.eu/