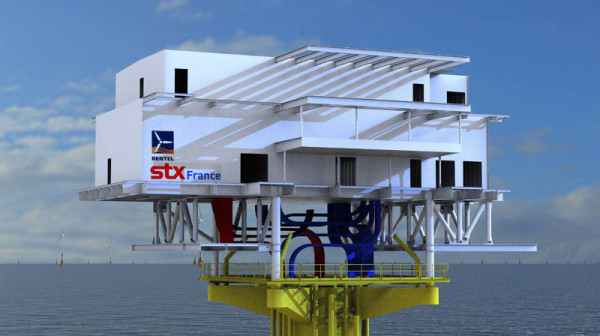 The electrical sub-station at Belgian wind farm Rentel will be built by STX. The "turn key" order requires STX to oversee every aspect of manufacture including its installation at sea. New proof of the dynamism and competitiveness of STX France in the sector.
"We are very proud to have been entrusted this responsibility as part of Rentel's ambitious project," said Frédéric Grizaud, business unit director of STX France's Énergies marines. The Saint-Nazaire shipbuilder STX France has just announced a new order* for a 300MW-rated electrical sub-station destined for a wind farm 42km off the Belgian coast at Zeebrugge.
The order was won at the conclusion of a rigorous European tendering process. STX France will oversee every aspect of the design, production and installation stages of the sub-station, from the engineering, construction, and integration of the electrical equipment, to the siting of its mono-pile foundation and the sub-station module. This "turn key" bid, in which quality was as important as price, constitutes a key reason for STX France's export success.
Delivery in 2018
The specification and design of the sub-station are already underway, and its manufacture will begin before the year end at the Saint-Nazaire Anemos factory. More than 280,000 hours of work will be required to deliver the order, which should be completed, after the installation phase at sea, by spring 2018.
* STX France's first order for an electrical sub-station, destined for an English wind farm, was received from Dong in 2014.