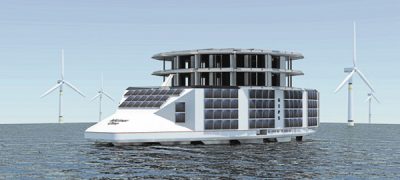 Geps Techno has been awarded the #SmartBusiness Award for the EDF Pulse 2017 competition. This is a new award for the Saint-Nazaire start-up, who are continuing their development with a fund raiser campaign and the opening of a subsidiary.
This year, no fewer than 529 start-ups took part in the EDF Pulse contest. Geps Techno, one of the gems of MRE in the Pays de la Loire, was chosen from among the twelve finalists. The start-up was able to benefit from personalised support to boost their candidacy with the press and the jury.
The experience was invaluable for Jean-Luc Longeroche, president of the young Saint-Nazaire company: Submitting our Sea autonomy project to a jury chaired by the EDF, industrial leader of power generation and distribution networks, was a daring feat. The exchanges with the jury and actually winning reinforce our strategic choices ".
An ambitious roadmap
This prize awarded to Geps Techno will increase its attractiveness for investors as it prepares a new €2 million fund raising campaign. Scheduled for the end of 2017, it will launch the production of the IHES prototype, an autonomous offshore platform that will use marine renewable energies to power off-shore construction sites, scientific and military bases, aquaculture facilities and others.
With several partners, Geps Techno has just launched a new subsidiary named Akrocéan. Dedicated to offshore big data, the company develops turnkey solutions for measurement and monitoring at sea. For example, a project for Météo France is currently in progress off the island of Oléron.
Further information: www.geps-techno.com/en
Worth noting: Geps Techno is exhibiting at the Pays de la Loire pavilion at the Ocean Energy Europe 2017 currently being held in Nantes.