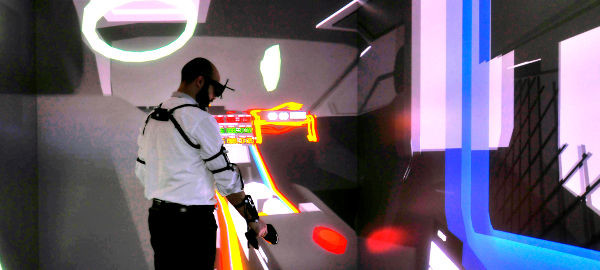 Saint-Nazaire's Industrial Virtual Reality Centre has just opened for business. This platform for experimentation and innovation has already allured professionals, and reinforces the region's role as the pioneer of the factory of the future.
In the Pays de la Loire, virtual reality is serious business. To Laval's virtual reality science park—whose opening next year will be celebrated by the Laval Virtual event—must be added a new, lavishly-equipped industrial VR facility at Montoir-de-Bretagne, to the east of Saint-Nazaire.
The recently inaugurated Industrial Virtual Reality Centre (Centre industriel de réalité virtuelle, "CIRV") is the first of its kind in France. The centre forms a third platform within the Jules Verne Manufacturing Valley, alongside Technocampus Composites (formerly EMC²) and Technocampus Océan (also due for completion in 2015), and is now ready to host digital projects under the rubric of 'the factory of the future.' Big names such as Airbus, Alstom and STX, along with numerous SMEs, as well as players in the marine renewables sector, have already expressed an interest in using this innovative facility, which groups the latest virtual reality technology under one roof.
Hi-tech equipment
The CIRV will bring about a revolution in engineering practice. The centre groups commercial space and high level shared equipment: an immersive room with very high definition stereoscopic screens (the five-screen CAVE virtual environment), with two walls which allow interaction with the virtual reality scenes in 3D and stereoscopically ("CAD-Walls").
The facility offers many creative possibilities and industrial applications: from the commercialization of products to remote collaboration, to education and training, for design, or even rehearsing manual procedures. Notably, it will be possible to simulate manufacturing processes at full scale to eliminate design flaws, such as those that might affect ergonomics for machine operators.
€8.6m investment
The project, supported by the EU, and national and local government, represents a major investment of public money: the real estate costs stand at €5m. with more than €3.5m. spent on technology. The Pays de la Loire Region has financed more than half of the project.*
Jacques Auxiette, president of the Pays de la Loire Region, welcomed the opening of the new facility: "This virtual reality resource will sharpen the competitive edge of all of the region's industrial players, and Saint-Nazaire's in particular—its shipbuilders, aircraft manufacturers, and, shortly, its marine energy companies—as they innovate and seek international markets. "
*54.1% of the real estate investment and 75% of the technology costs (real estate total €4.84m excluding tax)
Contact: Sophie Levionnois, director, contact@cirv.fr