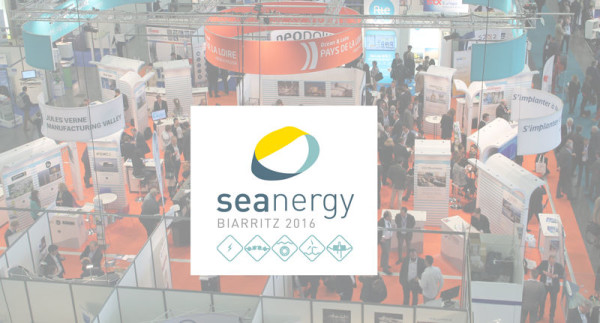 The Seanergy convention, an international event for marine renewable energy, kicks off on the 1st of June. Many stakeholders from the Pays de la Loire will be attending, to demonstrate their expertise at their booths and during conferences. B-to-B meetings have also been scheduled.
Thirty stakeholders from Les Pays de la Loire will be exhibiting at the Seanergy convention. In addition to the 18 stakeholders with individual exhibition areas, the 130 sq. m collective booth for the Pays de la Loire will bring together 15 joint-exhibitors (including companies, educational establishments, hubs and clusters, ports and institutional organisations).
At this two-day event, which will be held in Biarritz, the Pays de la Loire booth (G7) will, among other things, be running a virtual reality activity, which will enable visitors to explore a Haliade offshore wind turbine as if they were really there.
Conferences and B-to-B meetings
Several Pays de la Loire ambassadors will be speaking at conferences. Firstly, Sébastien Pilard, regional councillor in charge of blue growth and international development, will be speaking on the topic of "Cross Words – The coastal regions and overseas territories, motor of MRE development."
Local stakeholders will also be represented at several technical conferences: Éric Pelerin (GE) and Benoît Tavernier (STX) will speak on the topic of "Metallic and composite materials, a key combination at sea" and Christian Berhault (SEMREV) will speak at the conference "Tidal and wave energy: a similar development?"
Lastly, around thirty stakeholders from the local area have signed up for B-to-B meetings organised by Enterprise Europe Network and international meetings will be held to facilitate collaborations with the sector in Britain.
Technical visits on the 3rd of June: Click here to sign up.
Exhibitor pass: if you haven't already done so, don't forget to sign up on the Seanergy website .
The full programme: www.seanergy-convention.com/#!programme/o5xuh