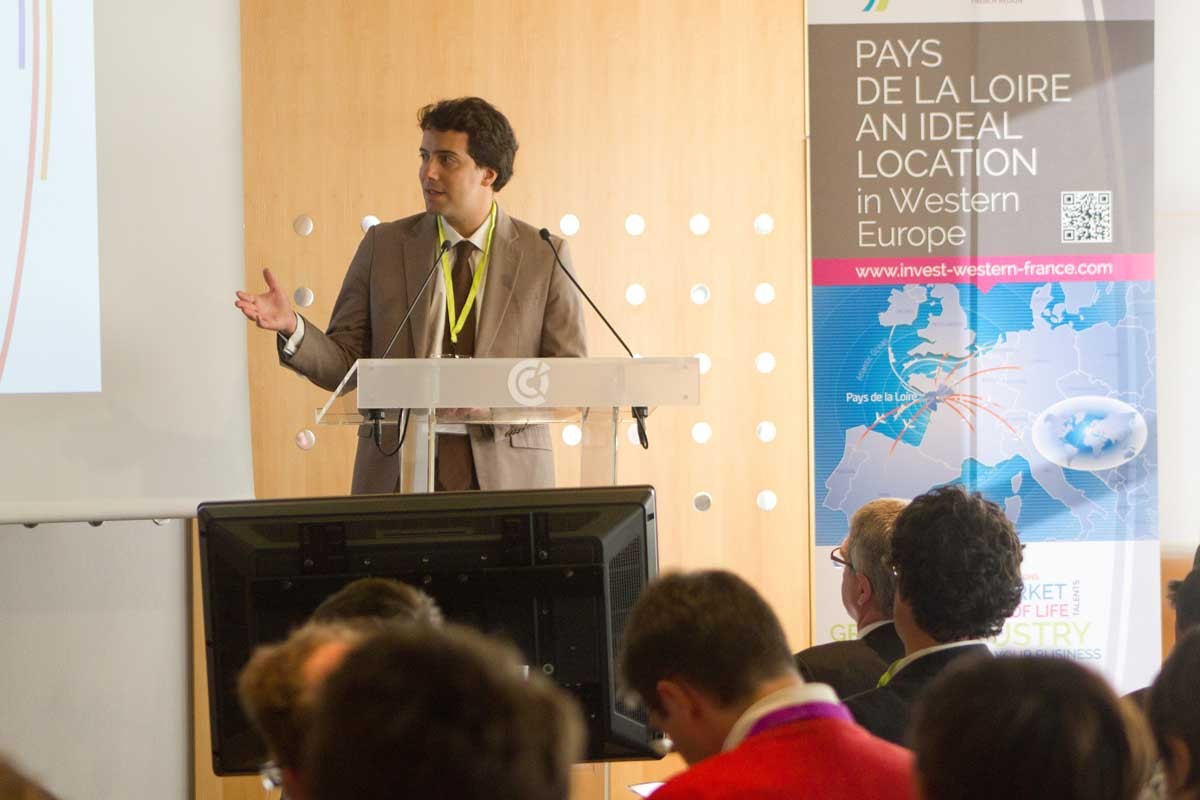 This year's Thétis EMR business fair is being held in the Pays de la Loire. It's an ideal occasion to attract international investors and open the way to exports for the industrial companies of the region.
On the 19 May, a fringe meeting at the Thétis EMR event—a lecture followed by a cocktails—gave the region an opportunity to present its many attractions to an international audience. Organized by the Regional Agency (Agence Régionale Pays de la Loire Territoires d'Innovation), the event gave an overview of four significant business customers (Alstom, STX, DCNS et Rollix), as well as several dynamic SMEs, representatives of the research community, and the Neopolia business cluster.
After theory, comes practice: the 21 May from 15h to 17h will offer an opportunity for exchanges between regional and international players preparing for a joint workshop with the goal of forming partnerships to run substantial European projects within the Horizon 2020 programme.
Towards European cooperation
The Pays de la Loire Region has already demonstrated its commitment to projects at European level, most notably in its involvement with Atlantic Power. Brought into being by 17 European partners on the continent's Atlantic seaboard, the project has led to the signing of a cooperation agreement between several clusters engaged in the marine renewable energies.
The Region has also been first in line to participate in CLIPPER (Creating a Leadership in Maritime Industries – New oPPortunities in Europe), a new project which combines ten partners from eight different regions. Its objective: the improvement of public policy in support of the competitiveness of SMEs in the maritime sector.
Scotland and Schleswig-Holstein: preferred partners
Two European regions have most furthered the goals of the partnership. An agreement has been struck with Scotland, where the renewable energies are already developing strongly. A delegation comprised of representatives from 18 Scottish companies has been welcomed during the Thétis event and a meet-up event between 17 of the region's businesses has been organized on the 21 May at 1130h.
An extra personalized programme of visits has also been arranged for one of the Scottish companies planning a Pays de la Loire subsidiary, in competition with other regions on the Atlantic seaboard.
The marine renewable energies have been an important plank in the programme of economic cooperation that links the Pays de la Loire with the German state of Schleswig-Holstein since 1992. The exchange between the regions has been promoted through events such as the visit of a representative of the Economy ministry and a German company to Thétis EMR 2015. A June workshop in Rendsburg will play host to both Windcomm and Neopolia.
*ADF Côte Ouest, Bureau d'études Mauric, ECA EN, ETPO, Ceteal, FMGC, Innosea, Ixead – Capacités, Jefmag, Jifmar, Leroux & Lotz Technologies, Socomore, Tronico, Valorem, Hydrocean, Geps Techno, Veritas.