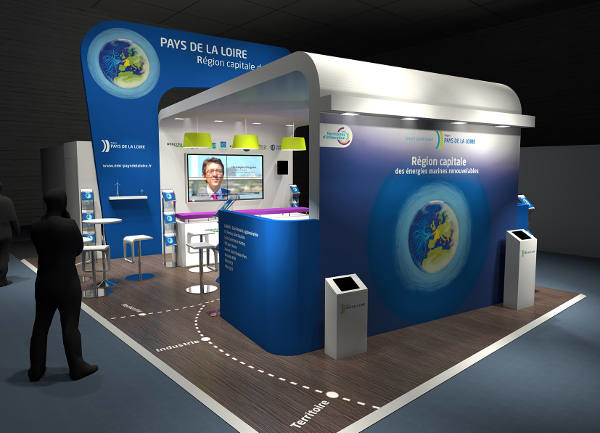 It is the international salon. The Thétis Marine Renewable Energy Conference returns for its 3rd
edition in Cherbourg on the 9 and 10 April. The Pays de la Loire will be widely represented there by a panel of actors drawn from the region's research organisations, public bodies, and businesses.
260 exhibitors, many political figures, 600 business meetings and more than 2500 visitors are predicted to attend this year's event, confirming its continuing success. Over the last three years, the Thétis salon has become the definitive meet-up for the sector. This year it will take place in Cherbourg, on the 9 and 10 April. And the day before, the first national meeting on the marine renewable energies organised by the French Renewable Energy Association (Syndicat des énergies renouvelables) will take place.
The Pays de la Loire Region will be present again this year, having taken stand C4 (side by side with STX France) where it will be possible to meet with representatives of the École Centrale de Nantes, the Nantes-Saint-Nazaire Chamber of Commerce and Industry, the Carene, the Jules Verne Institute of Research and Technology, EMC2 and S2E2.
You will also be able to find the École Nationale Supérieure Maritime, and several regional companies elsewhere at the exhibition: Alstom, DCNS, EDF-EN, Ifremer, Cabinet Bessé, STX France, Assystem, Innosea, the Alumarine shipyard and Eolhyd will all be represented at Thétis this year.
Further information: www.thetis-emr.com
Contact: Caroline Garcin, c.garcin@agence-paysdelaloire.fr, 02 40 48 81 45