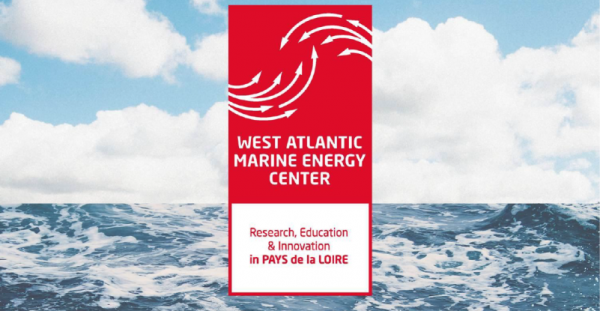 The West Atlantic Marine Energy Center, founded only a few months ago, is set to play a key role in the development of R&D and training in the marine renewable energy sector. Placing innovation at the center of its ambition to develop the region's sector internationally, it recently launched a funding programme for R&D projects. Its director, Philippe Baclet, outlines its plans.
What is the role of the West Atlantic Marine Energy Center?
WeAMEC will accelerate training, research, and innovation projects in the marine renewables ecosystem in the Pays de la Loire, throughout the value chain. The result of a consultative policy process led by the Region, it will be relevant for all players in the sector, which today includes 10 laboratories, 15 research institutions, several local authorities, more than 200 companies and major purchasers (DCNS, EDF En, ENGIE, GE, STX, ROLLIX, NEOPOLIA EMR), and unique test infrastructures as SEM REV. The day-to-day running of the consortium is led by its four founding members (the École Centrale and the University of Nantes, the competitiveness cluster EMC2 and the Jules Verne Institute of Research and Technology) based on a shared strategic plan.
What are the strategic priorities in this plan?
We will concentrate on progress in three main areas. Firstly, the fixed offshore wind turbine, in particular confronting more demanding sea conditions than those in the North Sea, which should interest international markets. We will also support the development of floating turbine designs, which show considerable promise. Crucially, floating turbines expand the zone available for exploiting wind. They can be sited where the wind is stronger, avoid zoning conflict with other maritime users, and reduce environmental impacts. Finally, WeAMEC is contributing to basic research that will advance technologies such as tidal turbines, wave energy converters, and marine thermal energy.
What does this mean in concrete terms for WeAMEC's activities?
It is the main portal for research and training in the marine renewable energies. WeAMEC extends the existing range of continuing professional development and hosted its first one-day conference in January. We will also drive innovation by financing research. Our first grant program has been launched to support projects that fit with our strategic plan, and enjoy the support of an industrial partner (see box). We have €1.85 million earmarked for allocation over three rounds, and the consortium will also seek further funding with collaborative projects.
Further information: download WeAMEC's brochure
First call for projects to address technical challenges in the marine renewable energies
The West Atlantic Marine Energy Center has just launched its first research funding programme for projects proposed by sector participants in the Pays de la Loire. The deadline for submissions is 15 March 2016. The centre will fund successful applications up to €200,000, favouring those which have found matched funding elsewhere.
Proposals must be innovative, of the highest scientific quality, and include a partner in a Pays de la Loire research institution. Applications will address one of five major challenges identified by WeAMEC: multiphysics modeling and system approaches, prototyping with scale models, evaluation and solution of economic, environmental and social impacts, risk management, reliability, operational, and life cycle issues, and advanced materials science with a particular application to marine energy structures.
Consortium applications are particularly welcomed, especially if they would create synergies across research laboratories. Applications must also be supported by a letter of recommendation from one or more industrial companies. Pays de la Loire research institutions must also commit to continuing their programme if it achieves its initial objectives.
Applications must be submitted before midday on 15 March 2016 to recherche@weamec.fr.