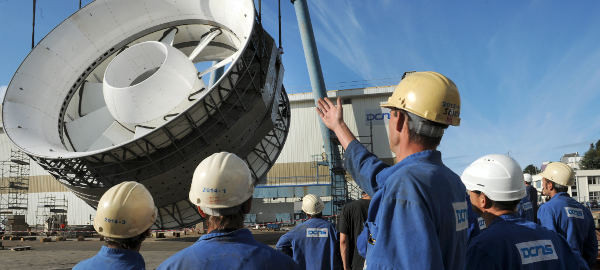 French energy giant EDF is moving forward with its plans to develop a pilot site with two submerged marine turbines off the northern coast of Brittany at Paimpol-Bréhat. The DCNS subsidiary OpenHydro will build both turbines, planned to be operational by 2015.
"This is a proud day for us", rejoiced Thierry Kalanquin, the director of DCNS's energy and marine infrastructure division, when he heard the news. As president of OpenHydro, he's leading a celebration "that confirms our performance in innovating OpenHydro marine turbine technology."
This new stage for the company follows the trials of the Arcouest turbine model at the site in real world conditions last winter. "The results enabled us to show the performance of the turbine we have developed, and confirms the principle of a 16-metre 2MW prototype. This was an essential step before we could move forward to the installation of an array", said Kalanquin. And the new second generation turbines will benefit from the experience we have gained with the Arcouest prototype.
The Paimpol-Bréhat project will be a realistic long term test of the technical, economical and environmental feasibility of submerged marine turbine arrays. The next challenge will be a production model, with deployment of pre-commercial arrays planned for 2016 as part of DCNS's response to the expression of interest from the Ademe, the French Environment and Energy Management Agency.
Further information: